Education
Teacher Conrad Berghoef shares experiences during corona time in Teacher on the bike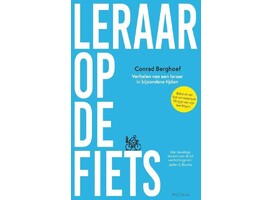 Teaching has often been a challenge, but since homeschooling, teachers often had to reinvent themselves. Conrad Berghoef from Friesland became the symbol of the zooming teacher. In this book, he talks about the profession he has been practicing for 25 years, about teaching during corona and about his students who are being trained to work in healthcare and who are on the front line as novice trainees during the corona crisis. This is reported by Het Spectrum.
In 2021 Conrad will cycle across the province to deliver books to his students. He sees how students stand or are touched by this time. Despite all his experience, it feels like he is in front of a class for the first time.
The book is full of recognizable, moving and funny anecdotes for those who stand in front of the class, have stood or have been in the class. Teacher on bicycle will be published on 26 August by Spectrum publishers.
Conrad was also in the news in December last year because his Nursing students from ROC Friese Poort in Drachten moved the whole of the Netherlands by thanking Conrad during the online lesson.
By: National Education Guide
Teacher Conrad Berghoef shares experiences during corona time in Teacher on the bike
Source link Teacher Conrad Berghoef shares experiences during corona time in Teacher on the bike