Education
Teacher surprised by sweet gesture to students during online class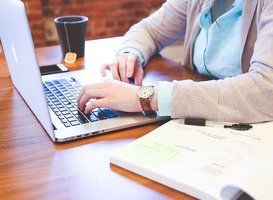 As of today, teachers have to teach their students online again. Distance learning is not fun or easy for anyone and teacher Conrad Berghoef from ROC Friese Poort Drachten was not looking forward to it this morning either. But his students together support him with a sweet gesture. This reports Drachtster Courant.
When class begins, it looks like Conrad is talking to a wall, because none of his students has the camera on. "The hell did they turn that camera off again? I don't feel like today, "he says on Twitter that he thought at the time. Then one of the students asks: "Sir, can you see all of us?" When Conrad says wearily, "I can't see anyone at all," the student giggles and signals the rest of the class.
One by one the students turn on their camera and they all hold up a note with texts like "Thank you Conrad" and "Thank you dear Conrad". On Twitter, Conrad shared a video of the moment, in which he can be seen visibly emotional. "I don't think I've ever been silent for so long," he says eventually.
The movie is here on Conrad's Twitter.
By: National Education Guide


Teacher surprised by sweet gesture to students during online class
Source link Teacher surprised by sweet gesture to students during online class