Lifestyle
The biggest frustrations of the Dutch when sleeping in the summer
Sweaty, short nights… These cause great frustration among the Dutch when sleeping in the summer.
We sleep less, have less sex and many young adults are separated from the partner.
Have you just found your way and it has cooled down enough to fall into a deep sleep, a mosquito buzzes past your ear. Hop, the big light on and on the hunt! That can only mean one thing: it's summer again and it's hard to fall asleep.
Sleep when it's hot
Research by Swiss Sense, a company in sleep products, shows that we suffer massively from high temperatures in bed (54 percent). And as the temperature rises, the coziness in the bedroom decreases. We struggle to fall asleep (39 percent), regularly skip the act of love (41 percent), and many 18-34 year-olds even nap apart from their partners (25 percent).
1000 Dutch people aged 18 and older took part in the study.
Mosquitoes, heat and noise in summer
When the temperature rises, it can present a lot of challenges in the bedroom. More than half of the Dutch consider heat in the bedroom the biggest summer frustration. Mosquitoes come in a close second place for the unwanted night owls. A third of the Dutch cannot fall asleep. It is striking that more than half of the over-50s (57 percent) are not bothered by the stinging insects. Other age groups can hardly sleep at all. Noise from outside is also a summer irritation. This is especially true for the clean sleepers – or awake sleepers – who live in a city (39 percent). A low percentage is that one in five (22 percent) people say they have trouble sleeping because it gets dark late and light early.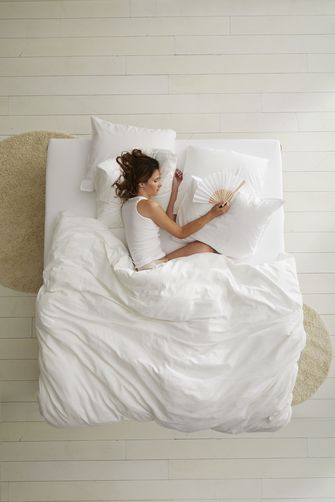 Sleeping and summer 'fun'
As the temperature rises, the coziness in the bedroom seems to decrease. Compared to winter, not only do we 'pips' shorter in summer (49 percent) and have more trouble falling asleep (39 percent), we also visit each other less quickly in the bedroom. Four in ten people (41 percent) indicate that they have less or no sex when it is hot.
The research shows that the Dutch try to keep their cool in the bedroom in various ways in the summer. This is what we do most when it comes to heat:
• Sleep with the window open at night, with or without a screen in the frame.
• Darken the bedroom during the day by keeping the curtains closed.
• Sleeping without a blanket or duvet and only under a sheet.
• Sleeping naked or wearing less clothing than usual.
• Take a lukewarm or cold shower.
• Install (or have installed) an air conditioner in the bedroom.
Would you like to doze off in a hotel? Then enter this week's Metro contest.
Original weekend away: sleeping in a church (in a very special place)
Seen a mistake? Mail us. We are grateful to you.


The biggest frustrations of the Dutch when sleeping in the summer
Source link The biggest frustrations of the Dutch when sleeping in the summer