Netherlands
'The Brusseler' pays tribute to 'The New Yorker' and to our capital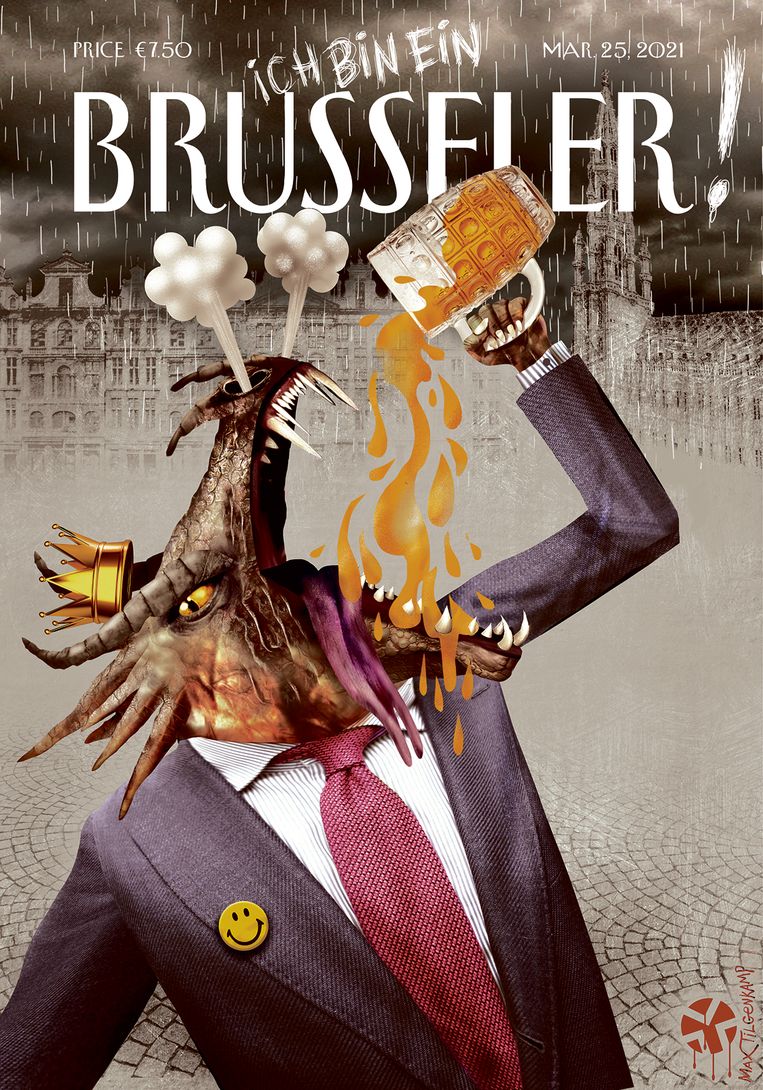 Manneken Pis, the Atomium, Tintin, the Palais de Justice, Toots Thielemans, pubs and little Brussels. They are the most common characters and themes that show up on the more than a hundred covers of The Brusseler. But the exhibition in the House of the Image goes further than showing classic tourist pictures. It is also: two Atomium spheres that are visibly marked in someone's pants as if they were steel testicles, Pietje de Dood hiding in the tourist streets with his coronavirus-mutated dog, or a diligent, costume-wrung dragon taking a pint. beer down with the words "Ich bin ein Brusseler".
"Everyone was given carte blanche," says Johnny Bekaert, one of the curators. "One produced a surreal image, the other a realistic or humorous one. Still others were critical of Brussels, such as Nicolas Vadot and Max Wilgenkamp, ​​who respectively address traffic jams and public drunkenness. It was all possible. "
The result is impressive: 120 image makers who are tackling the Belgian capital in their own unique way. Among them are unknown and well-known names: Ever Meulen, Joost Swarte, Philippe Geluck, Picha or Tom Schamp. Bekaert: "We always approach a large selection of draughtsmen to give new and young draughtsmen a chance as well."
Renowned typography

The concept is not new. On The Brusseler preceded five similar exhibitions worldwide: The Parisian, Le Montréaler, The Tokyoiter, The Shanghairen and The Milaneser. A small army of illustrators, comic strip authors, cartoonists, animators and even a photographer here and there was brought together for each of these exhibitions. Each of them was free to interpret their capital at will. Each of those prints was then photoshopped as if it were real The New Yorkercovers – including the time-honored, acclaimed typography that has been giving the American magazine face for nearly a hundred years now.
"It was a Canadian draftsman residing in Belgium who drew our attention to that international homage exhibition. He had seen them in Montreal and wondered whether Brussels would not be a good approach either. Only then did we realize that four other well-known capitals had organized such exhibitions. Paris was the first. Their expo dates from 2013. We contacted them first, later we also spoke with The New Yorker. Because what about the copyright and image rights of their name, layout and typography? The answer was that they did not ask for copyright and that we were allowed to pay homages as we saw fit. "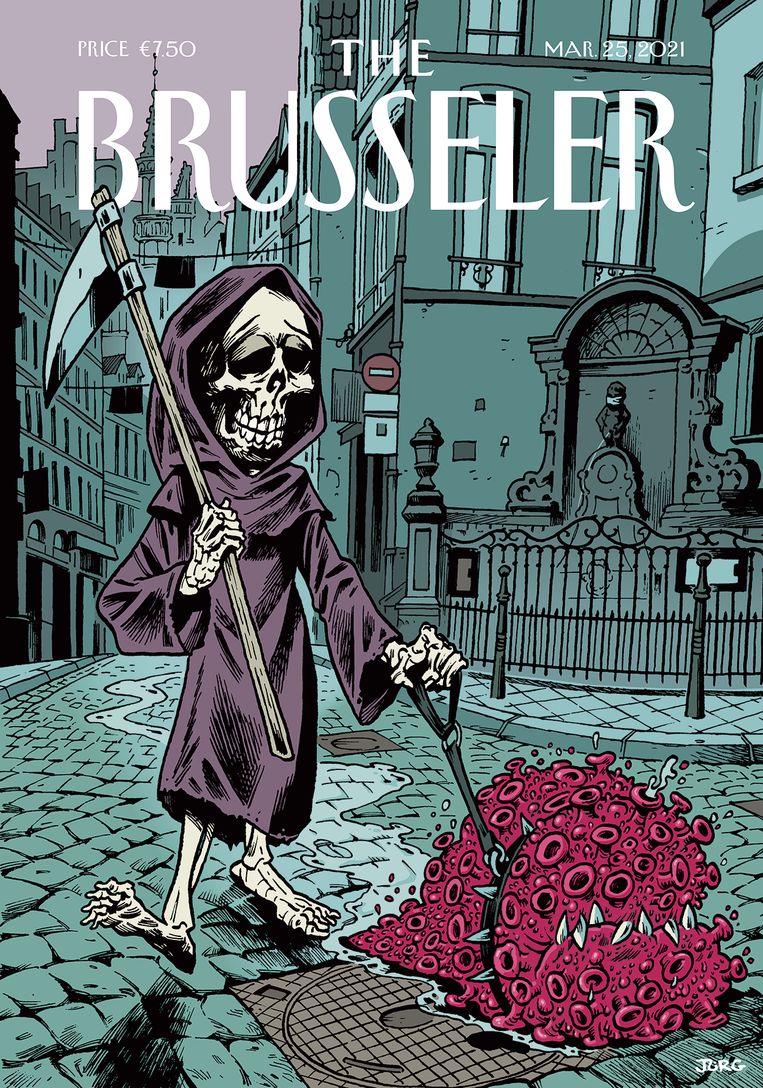 Not every sculpture was made especially for this exhibition, and not every sculpture maker is Belgian. Or stronger: still alive. Bekaert: "Well-known illustrators such as François Schuiten, Jan Bosschaert, Delphine van Saxe-Coburg or Herr Seele did not have time to create new work, but they did have loads of drawings about Brussels. And yes, we received permission from his widow for the work of comic book author Yves Chaland, who drew a lot about Brussels and could not be missing in this set-up. " Of the 120 participants, 100 are Belgians, it sounds. "Some foreign authors earned their place because they either live in Brussels or are very familiar with it."
Stromae

Also striking: all participants and curators work unpaid. Why? Illustrator draftsman Johan De Vrome, who drew a striking cover with Stromae wearing a Tintin haircut, wearing a sweater depicting the Atomium and just not sucking Margritte's pipe, is participating for the fourteenth time.
"Yes, such a print takes time, but it is still nice to be among well-known image makers and to be part of the homage exhibitions of the House of the Image. I participate twice a year. In the past I drew for expos on Jacques Tati, superheroes, Spirou, Philippe Geluck … Interesting themes, I think. Sometimes there is also a socially relevant theme such as the Boobs Art exhibition, about breast cancer. That's what you do it for. Every exhibition is a new challenge.
"I even dare to say that for all those exhibitions I created a kind of style where my Dadas from art history come together. So the word 'free' is relative; you get something else in return. Just get together with like-minded people and see everyone develop one theme in their own way… "
Unlike, for example, at the expo The Parisian, which published various catalogs and even published a striking side series on the theme of Paris in 2050 The Brusseler no catalog. All works are on their site, which means that, according to Bekaert, the exhibition can be viewed virtually virtually. "Apart from that, in these times it might be good to mention that our exhibition space is large and high."
Until the end of August. Info: www.thebrusseler.eu
'The Brusseler' pays tribute to 'The New Yorker' and to our capital
Source link 'The Brusseler' pays tribute to 'The New Yorker' and to our capital