Sports
The gap of four points between Ajax and PSV feels bigger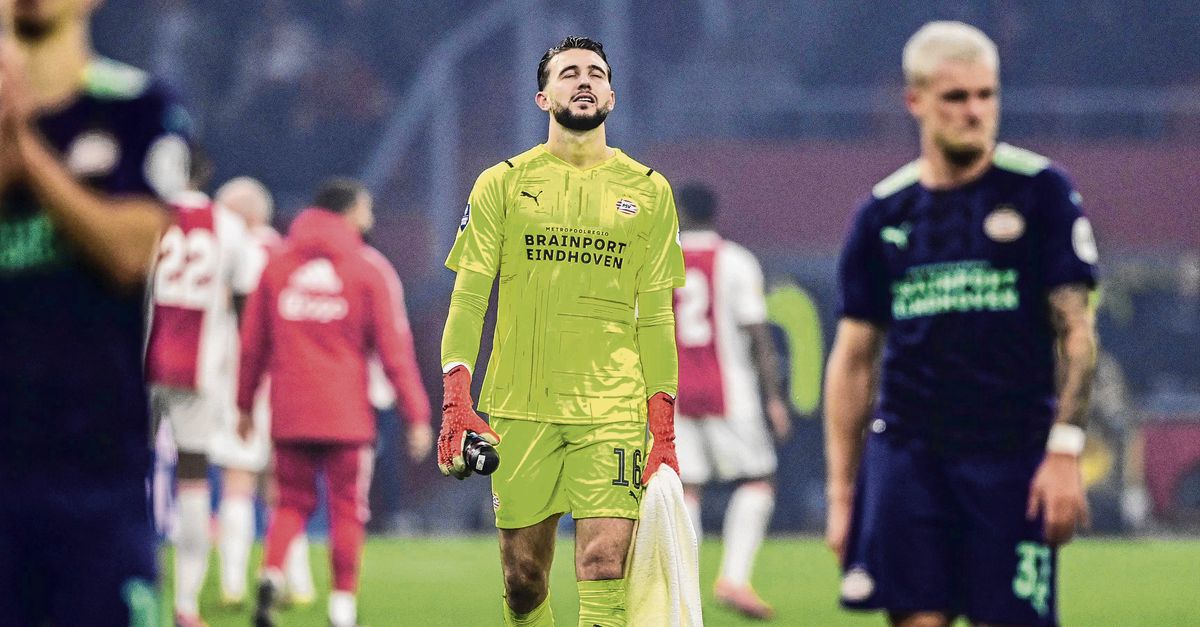 The most promising matches are not always the best duels, nor the most exciting or entertaining. Sensational, that was the Ajax-PSV topper, but especially for the home crowd. After all, in the Arena, the supporters of Ajax saw their team score five more goals against an opponent who is in fact still the main competitor for the title.
For the neutral viewer, on the other hand, it was probably a less attractive pot. He will have noticed a gap on Sunday. One that was already there financially, but now also on the field. Because what was suggested beforehand was also true: Ajax was better. On many fronts.
Roger Schmidt saw that too. In exactly the same place where a week earlier his colleague from Borussia Dortmund said with a big grin that he was "Scheisse" felt, after the 4-0 defeat in the Arena, the German PSV coach must have felt about the same when he came to review with the press on Sunday. "It's very difficult to be better than them, especially over 34 matches," sighed Schmidt. "They have a fantastic team, have been together for a long time and they are used to playing together. They may be at their peak."
The first twenty minutes. Then both teams looked evenly matched and PSV could have scored. A phase about which the Ajax coach said that something like this "was sometimes good for his team". His players were not in it, were sloppy with the ball. "At eagerErik ten Hag called it himself. So it was nice that his team showed after the PSV offensive that it is capable of recovering.
Hard
When asked how hard the defeat must have arrived at PSV, Ten Hag said with a straight face: "I am not concerned with that."
Earlier that afternoon, a large banner was unfurled on the F-Side referring to the financial relations between the two clubs. A life-size Greek legionnaire was seen, with a large bag of money in front of him, bearing the logo of the Champions League. Two wailing figures in PSV shirts stood next to the graying soldier with a much smaller pile of money in front of them. In a European context, PSV earns a fraction of what Ajax has been earning for years in a row in Europe's most lucrative tournament.
"At Ajax they are arrogant again and they think they can take on the whole world," said former coach Aad de Mos in advance at Omroep Brabant. Ex-PSV coach Huub Stevens in the same broadcast: "Everyone expects Ajax to win 5-0."
Would people really have thought that? In any case, it was ironic that afterwards it was actually exactly that 5-0 on the scoreboard, a result that was more reminiscent of a glorified training game than a serious showdown at the top of the Eredivisie. Ten Hag: "I was very happy with the 2-0. From a resume. That was one of the targets for this season."
However, it was difficult at first. While Ajax played a match for eternity against Borussia Dortmund against PSV, it was not very memorable what the players showed, especially in the first hour. At times it even got a bit boring, while this topper, seen live in 140 countries – 45 less than FC Barcelona-Real Madrid – should be the best of what the Netherlands has to offer in terms of football. It wasn't really uplifting.
Perhaps too much was expected that Ajax would also sparkle against PSV after the third Champions League victory in a row on Tuesday. After Steven Berghuis' 1-0, which was preceded by a rare beautiful combination, Ajax seemed to agree. At the same time as the need to score, the resistance of the injury-plagued PSV decreased, so that it was not very exciting until Sébastien Haller's 2-0.
no jubilant
The way in which the French striker celebrated his goal was typical of the game. Haller has never been a jubilant, but this composure – he only cheered with clenched fists – contrasted sharply with the frenzied joy that usually radiates from players when they score in a top game. Euphoria that was there with Antony, the Brazilian who swings on the sidelines and shot in the 3-0, followed by the 4-0 of substitute Davy Klaassen, who scored at a moment when PSV seemed to have given up all hope.
After Dusan Tadic had signed for his hundredth Eredivisie goal in injury time, the embarrassment on the Eindhoven side must have been complete. "At Ajax everyone is fit," said trainer Schmidt, who himself had to miss attackers Cody Gakpo and Noni Madueke, among others. "They also have top players on the bench. It will be difficult to win the title."
Ajax is now four points above PSV. In terms of figures, it is nothing, certainly not now that with ten matches less than a third of the competition has been played. Emotionally, it's a completely different story for now.
The gap of four points between Ajax and PSV feels bigger
Source link The gap of four points between Ajax and PSV feels bigger