Education
The life of Princess Amalia is central in AVROTROS special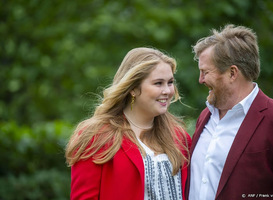 For example, Stax speaks with royal connoisseur and journalist Rick Evers, with whom she takes a walk through Wassenaar and The Hague. In those places Amalia went to hockey and primary school. They also visit Noordeinde Palace. That is still the king's working palace, but later Amalia's when she becomes queen.
Planned life
Also couturier Edouard Vermeulen of Modehuis Natan in Brussels and the author of the book Amalia, Peter Rehwinkel, have their say. Parenting coach Marina van der Wal tells what it is like for a child to have a planned life.
Insight into life
The special can be seen on Amalia's birthday, on December 7, at 8.30 p.m. on NPO 1. The Net5 documentary will also be screened on that day. Princess Amalia: teen on the way to the throne broadcast. This documentary gives an insight into the life of the heir to the throne through stories of people close to her.
By: ANP
The life of Princess Amalia is central in AVROTROS special
Source link The life of Princess Amalia is central in AVROTROS special