Netherlands
The new camp in Moria is even worse than the old one, there is not even running water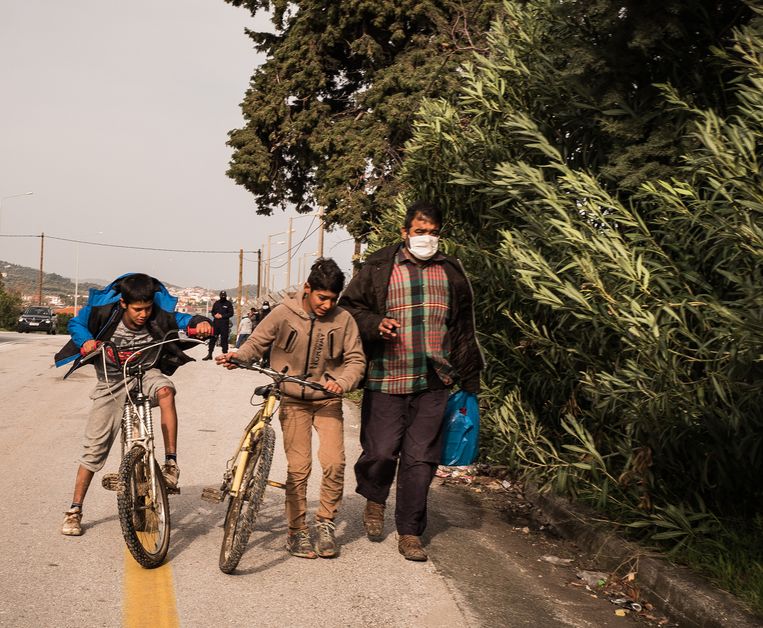 It is not raining heavily, but the paths of the new camp Moria on the Greek island of Lesbos are full of puddles. Employees of the German Red Cross shuffle through the slippery mud. They are looking for residents with scabies to give them a pill and pick up their clothes and sleeping bag for a wash.
Eliminating scabies is an illusion in this camp, where two families live in a small tent, separated only by a cloth. Since the opening of the new camp in September, there is still no running water and hardly any electricity.
Only recently, 36 hot showers have been connected to a water tank, for which the 7,300 residents have to queue for hours. The camp is located right by the sea, where a bleak wind blows on this gray January day. With the slightest rain, the soft clay soil turns into a flooded mud pool.
"I'm happy to help fix it," says Gholamfaroogh Mir (28). In the parking lot of the Lidl supermarket, near the camp, he is sheltering from rain with a cardboard box full of groceries. Like more than 70 percent of the inhabitants of Moria, Mir comes from Afghanistan and first fled to Tehran, where he built water pipes. "I don't understand why they can't do that here."
Evacuation

Moria, which arose in 2015 when the Greek islands were overrun by Syrian refugees from Turkey, has become the stain of European migration policy. Year after year, Moria became fuller and the inhabitants became more desperate. The humanitarian disaster was complete when the camp went up in flames last September. All eyes of the world were on Lesvos. This cannot go on like this, the unanimous sounded, the residents had to be evacuated.
Some of the residents were indeed taken away and taken to the Greek mainland. A few Member States, including Germany, took in refugees from Lesvos. Belgium admitted some unaccompanied minors.
Five months later, the attention of that time has completely disappeared and the situation of those who stayed behind is even more poignant and hopeless than before. The press is not welcome, the police guard the entrance and constantly drive threateningly slowly through the camp. Taking pictures of the crowded tents, flooded paths or plastic bags overflowing with rubbish is strictly prohibited. Even residents are officially prohibited from photographing their misery.
Yet the phone of NGO employee Thomas von der Osten Sacken (52) is full of images of muddy brown water, which he receives every day. "Hire a company and you have a drainage system and gravel on the paths within a week," the German says indignantly. Moria is not a humanitarian crisis, such as a flood or an earthquake, but a choice, he would like to emphasize once again.
He is extremely critical of the inefficient auxiliary caravan that has developed around the camp, which dhe Greek government is only too happy to delegate its responsibilities. Movement on the Ground, for example, arranges the food distribution and Boat Refugee Foundation has a medical clinic in the camp. Doctors Without Borders chose to keep their distance. The seventy NGOs on the island are struggling with their role. They have become part of a system that according to them shouldn't really exist and in which they can only improve small things.
White Helmets

Raed Alobeed introduces himself as the leader of the Arab community in Moria. On a bench in the park in the capital Mytilini, he speaks softly but in a fierce tone from under his FFP2 mask, which he reluctantly takes off for a photo. In Syria he was a health, safety and environmental consultant. Cynical fate has it that he now lives in a camp that does not meet any of the standards he used to monitor.
Alobeed took matters into his own hands and founded the Moria White Helmets, named after the opposition's volunteer organization in Syria. With a few handy electricians they stretched extra wires from the electrical boxes, over the tents to the toilets. There are now finally working lamps, so that nightly toilets no longer have to be in the pitch dark.
Alobeed is one of about 500 Syrians in Moria. The background of his phone shows a cheerful toddler in a red polo: his youngest son Hassan, whom he last saw as a baby. He has six children, five of whom live with his wife in Turkey. His parents, brother and sister died in the war. Only his eldest daughter, nineteen, is also on Lesvos. She gave birth to his first grandchild, Jude, in the old camp last year.
"What can I do for them?" Alobeed says desperately. His dream is to work again, but he has a hard time. "Nobody wants us, nobody cares about us." Like Von der Osten Sacken, who assists the Moria White Helmets with logistics, he is critical of the other aid organizations. Why can't even the simplest things, such as fairly paved paths, be arranged with all that European money?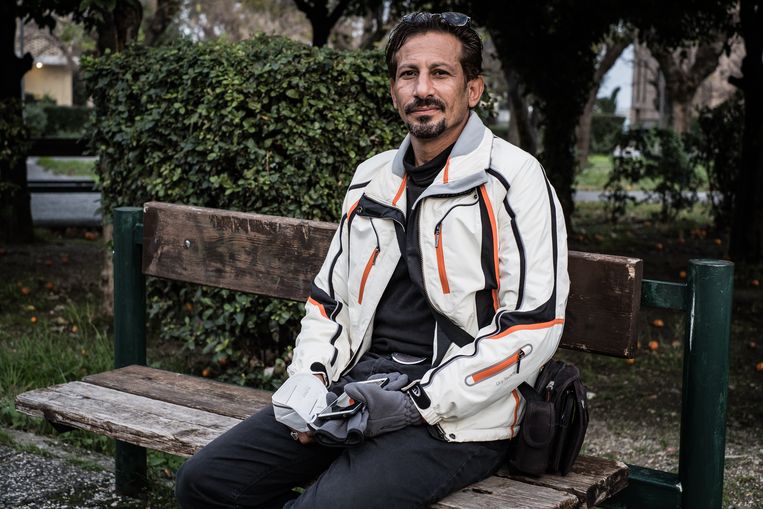 Corruption is also an obstacle to improving conditions. A frequently heard example is food, for which a local catering company receives 5 euros per person per day. When asked about it, Gholamfaroogh Mir makes a dirty face in the Lidl parking lot. He points to his box of freshly bought groceries: he would rather pay for his own food than live on the packaged croissant, rice, lentils and bread he gets in the camp. Sometimes there is vegetables or meat, once a week they get chicken. "I also give it to the birds."
The European Anti-Fraud Authority has been investigating catering contracts since 2018. Panos Kammenos, then Minister of Defense, hired a company with which, according to Greek investigative journalists, he has close personal connections. The same suspicion hangs around the tenders for plumbing contracts.
Rape

MSF-Holland's shipping containers face the burnt-out and abandoned old Moria, miles from the new camp. The organization consciously chose to stay outside the camp in order to be able to speak out against the circumstances.
Among the remains of the fire – children's clothes, lost shoes, half-melted plastic bottles – now only a Roma family is scurrying around, looking for scrap iron to sell. A few meters from the apocalyptic landscape, Javid Hafsaidi (27) is playing with his son Artin (3) on a wooden bench between the containers.
His wife is pregnant with their second child and has an appointment with the midwife, so they were picked up by bus to visit the clinic. "The old Moria was ten times better than the new," says Hafsaidi, while Artin crows through him in a clear voice. "There were more showers and toilets, and more privacy." The family is from Afghanistan and has been in Lesbos for a year and a half, but has not had an asylum interview yet. In the new camp, his pregnant wife does not dare to go to the toilet alone.
The Greek government is constantly emphasizing that security is now better and some residents confirm that. It's hard to reconcile the December news of the rape of a three-year-old girl near the toilets.
"Yes, it is safer," says child psychologist Katrin Glatz Brubakk (50) meaningfully. That does not mean that it is safe, explains the Norwegian, who has been coming to Lesbos since 2015. She still sees many victims of sexual violence, girls and boys. She is deeply concerned about the condition of her patients.
She looks outside worriedly from the MSF apartment, where a thunderstorm starts. "It's as if we're treating burns while we're still in the middle of a fire. " As long as her young patients do not have a safe, humane living situation, their mental health will only deteriorate. Last week she saw two suicidal children, the youngest was an eleven-year-old boy. Earlier she witnessed a suicide attempt of an eight-year-old, in March a seventeen-year-old boy took his own life.
Europe

Rain continues to descend on the fragile white tents in Moria, 90 percent of which bear the UNHCR logo. The rest is from the German Red Cross. "Normally, the ministry should provide shelter," admits UNHCR coordinator Astrid Castelein in her office in Mytilini. "But after the fire there was an exceptional situation."
Once it is more stable, the UNHCR will take over less of this type of work. "Then we will focus again on protecting the rights of the refugees." Castelein, who expresses himself diplomatically, also thinks that raising and hardening the wet clay soil is slower than expected.
In the camp the sea breeze hits the summer tents. Clothes hang from a bunch of barbed wire to 'dry' in the rain. An elderly man in flip-flops deftly avoids the mud puddles, which spread to ever-increasing streams of water. The 800 electric stoves, which the UNHCR bought at the request of the Greek government, are nowhere to be seen. They are in storage waiting for the municipality to improve the electricity network, which now cannot handle the heating.
Meanwhile, the Greek government has rented a site on which a new permanent camp is to be built, with containers. Construction has not started yet, so European Commission President Ursula von der Leyen's estimate, who promised that there will be a camp with decent conditions in September, seems optimistic.
The Moria White Helmets from Raed Alobeed are busy seven days a week to make the camp by the sea as bearable as possible. They install lighting, collect empty bottles and try to stop the floods with sandbags. Building a new life after the devastating war feels further away than ever for Alobeed. "We're here waiting for us to die." He repeats his words and pauses for a moment. "Please evacuate people from this hell."
The new camp in Moria is even worse than the old one, there is not even running water
Source link The new camp in Moria is even worse than the old one, there is not even running water