Entertainment
The Rise of Gru ends in a lot of predictable hassle ★★★☆☆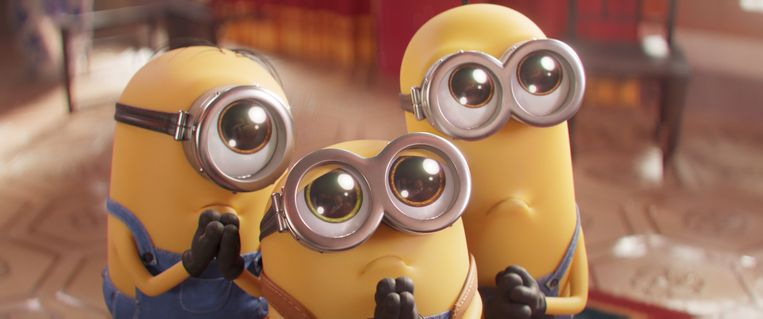 About the past of the Minions, the yellow sidekicks of villain Gru from the animation trilogy Despicable Me (in Dutch: Despicable Me), a lot became clear when they got their own movie in 2015. The bespectacled, rod-shaped, group-living creatures turned out to have been on Earth for centuries, always looking for a villainous master to serve. At the end of minions they ran enthusiastically after young Gru, who had stolen a golden crown just moments before.
Minions: The Rise of Gruz picks up the story not long after, starting in 1970. After some hesitation ("Who are those little yellow potatoes and how do they get so much denim?") Gru accepts the denim-clad Minions as his helpers. He is only 11 years old, but already dreams of becoming the biggest villain in the world.
A lot of jokes follow, in an unconvincing story surrounding Gru's job application to a criminal gang. What is striking is that family animation films are starting to look more and more alike, regardless of the studio that produces them. Minions: The Rise of Gruz by Illumination, for example, overlaps with the recent DreamWorks film The Bad Guys, but also with Disney or Pixar films. However clever or witty the screenplay is, in the end the films follow the same pattern with the same message. It seems that the makers are no longer trying to outdo the competition, but are content with a status quo.
That's a shame, because that's how this fifth, again pleasantly incendiary Minions film ends in a lot of predictable hassle. Fortunately, he offers something extra. The music has always been a strong side of the series (the song happywritten by Pharrell Williams for Despicable Me 2became a worldwide hit) and that also applies to Minions: The Rise of Gruzwhich throws a party in the cinema with great seventies disco songs.
Minions: The Rise of Gruz

Animation film
Directed by Kyle Balda.
88 min., in 152 (NL) + 104 (OV) halls.
The Rise of Gru ends in a lot of predictable hassle ★★★☆☆
Source link The Rise of Gru ends in a lot of predictable hassle ★★★☆☆