Education
The umpteenth drowning of this year shows that information should be different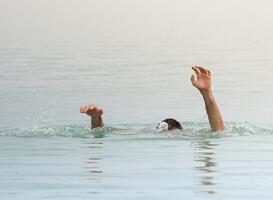 The umpteenth drowning of this year happened in Wageningen. Not only children, but also (young) adults are at high risk of drowning. The question is whether they are acting recklessly or irresponsibly or whether bad luck and ignorance also play a role here. It is up to the media and society to work together on swimming safety. That reports ANP Expert Support.
In Wageningen, as in other places, there is a swimming ban on sailing routes. It is soon called irresponsible if someone swims here, as the risk of drowning is high. Reports of drownings are becoming routine.
Cooling down
Ignorance plays a role in both children and adults. Humans reach a boiling point at certain temperatures and want to cool down. Due to the many closed or restricted swimming pools, this option is not available. And paying seven euros to visit an outdoor pool when water is nearby makes the choice a lot easier.
Information and explanation with practical examples
What is missing in this time is information and explanation with practical examples. Not some dusty professor telling everyone about the scientific dangers of water. But well-known and smooth people who share their experiences that everyone can identify with. Is it not the dangers in the water near rivers or of a ripple, or the meaning of the flags of the rescue brigade on the beach.
The government, but also the media, must set an example in this and contribute to the sharing of knowledge. Among children, but also among adults. We do swimming safety together, so let's work on this together.
By: National Education Guide
The umpteenth drowning of this year shows that information should be different
Source link The umpteenth drowning of this year shows that information should be different