Business
The uncertainty about the risks of Philips apnea devices will remain for users for a while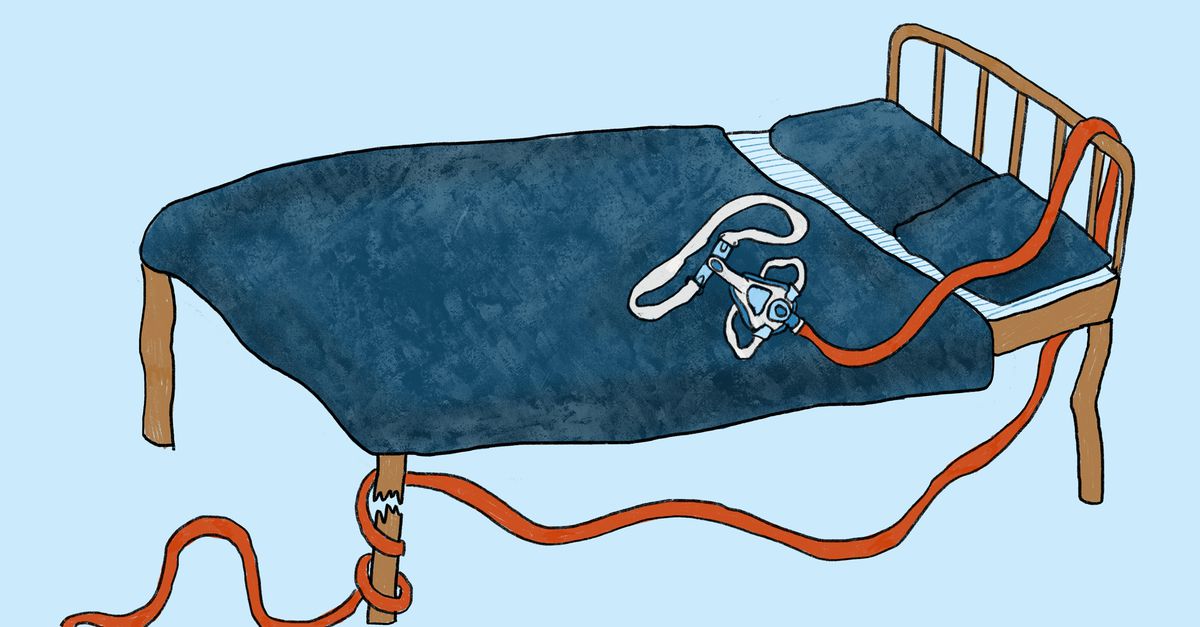 Sleeping with a sleep apnea device and getting potentially harmful particles into your lungs? Or sleep without and run the risk of falling asleep at the wheel due to fatigue? Such dilemmas arise in patients with sleep apnea.
Philips started in mid-September in the Netherlands to replace thousands of sleep apnea devices that may cause health problems. It is part of a worldwide recall, for which the company has earmarked half a billion euros. The operation is immense: there are three to four million users and the machines have been sold in one hundred and thirty countries.
In April, Philips first warned about problems with the devices – the line is called Dreamstation. They have been sold for over ten years. The device blows air through a mask into the mouth or nose of the user, who therefore suffers less from breathing stops in his sleep.
To prevent the thing from vibrating and making noise – after all, patients have to sleep with it – five grams of plastic foam (polyester-polyurethane) was used. It now appears that particles or gases can be released from this, which may be carcinogenic.
Philips is now testing in the US how harmful these particles and gases are and under what conditions they enter the body. Until there are results, the company is cautious with statements. It expects to become more concrete in November.
At the same time, Philips already let us know between the lines that users do not have to worry much. It says it had received very few complaints about health problems in combination with the device before the warning.
personal injury
Still, many Dutch users are concerned. Law firm SAP, specialized in personal injury claims, has contact with people who report complaints, ranging from headaches and dizziness to lung cancer. They wonder if they are due to the device. "People are extremely concerned and insecure," says lawyer Mark de Hek.
The office wants Philips to conduct independent research into the health of concerned users. And to their devices: did pieces of foam come off from them and have chemicals been released?
SAP is looking at various options for holding Philips liable. This includes a mass claim on behalf of a large group of users, as is more common in America.
It is estimated that 50,000 people in the Netherlands use Philips devices. In July, the Health and Youth Care Inspectorate advised patients, together with the association for pulmonologists, to continue using the devices as long as they have not been replaced or repaired. On Wednesday, the Inspectorate published the results of a trial with eight of the devices, carried out by RIVM. The health institute investigated the release of particles and other emissions in new and old machines.
Particles were indeed found in new machines, but at such a low level – comparable to the outside air – that no adverse health effects are expected on the basis of that measurement.
Emissions of 'volatile substances' were found in some devices, but in very low concentrations, just above the measurable limit. Among them was styrene, a raw material for various plastics that can be harmful. The Inspectorate wants Philips to look further into this: for example in what quantities styrene is released. Other substances found have no adverse effect on health.
The Inspectorate emphasizes that the RIVM investigation involved a small sample and that Philips must continue its own follow-up investigation. Based on the RIVM results, she does stick to the recommendation to continue using the devices until the replacement is available. Stopping immediately can be harmful. "People who stop the treatment often get their old complaints back," says the Rotterdam lung specialist Monique Klaaver. "That can lead to them falling asleep again during the day and, for example, entering a dangerous situation in traffic."
Also read this piece: Philips recalls ventilators; chemical particles in users' lungs

Facebook group
How many worries should users be in the meantime? Philips points out that it has received very few complaints about the machines. Worldwide, the company received ten complaints about health problems due to the Dreamstation. There were no Dutch among the complainants.
That figure was before Philips issued a warning about the devices. Since then, the number of complaints has "as you can expect increased considerably," said a spokesman. "We are still analyzing those complaints."
A nuance here is that users are more likely to complain to their lung specialist than to Philips. In the closed Facebook group of the Apnea Association, for example, there were regular complaints about headaches. Also specifically about headaches, tears in the eyes or nausea when using the Dreamstation. But people with sleep apnea feel bad anyway, so it is not clear to what extent these complaints can be traced back to the foam.
Ozone
In addition to the unexpected health problems, Philips received other complaints from users of its apnea devices, several dozen a year. For example, about black particles in the devices. In 2020, according to the group, those complaints suddenly ran into the hundreds, mainly from the US. Philips suspects a link with the use of ozone cleaning devices in that country.
That's right. Philips recommends cleaning the machine's mask every day. That has to be with a mild detergent, it says in the manual – just soapy water. Doing that every day is, of course, a hassle. In the US there are therefore devices on the market that promise to clean apnea machines easily. SoClean offers a kind of large container in which you can clean the mask with the gas ozone.
The US 'drug watchdog' FDA warned users of apnea devices last February against cleaning them with ozone or ultraviolet light. The regulator is said to have received 11 reports since 2017 of patients who coughed, had difficulty breathing, had headaches or asthma attacks when using such products to clean their device.
At the time, the FDA was particularly concerned about leakage of the gas in the bedroom, or that users would inhale residual gas. But the sound-damping foam from Philips is also destroyed by ozone. This has now been shown in laboratory tests.
It remains to be seen what the share of such cleaning devices in the fuss surrounding the Dreamstation is. The SoClean machines are still for sale, also for Dutch customers. Philips says it has repeatedly asked SoClean not to mention its sleep apnea devices in advertisements. On its own site, SoClean claims that ozone is harmless when cleaning sleep apnea devices.
Humidity
Another external factor that exacerbates the foam problem, Philips believes, is a high-humidity environment. Like in some Asian countries.
Due to the increased number of complaints, Philips subjected the devices to further tests. In early 2021, the company indeed identified 'a structural problem'. The study also found that in the very first days of use, small amounts of gases from the foam can be released, which are potentially carcinogenic. Philips is now also investigating exactly what the risks are.
The problem is not limited to sleep apnea machines. The foam is also in a certain type of older respirators, hundreds of thousands of which have been sold to hospitals worldwide. Those are also being recalled. Incidentally, these machines do contain a filter, and they are first blown through before use. This may prevent problems for patients.
Philips has a tough job to do with the recall, which will last until September next year. Different legislation applies in each of the more than a hundred countries with customers. For example, users in Australia not only get a repair or replacement device, but also their money back. In the Netherlands people get a new device, in the US both devices are repaired and replaced. Philips now produces 55,000 new devices per week, which will increase to 80,000 units.
The half a billion euros earmarked for the recall will not be earmarked for legal costs. In the US, close to a hundred lawsuits have been filed against Philips, which may be partly) merged into a mass claim.
Investors are looking bleak. The company's stock market value has fallen by a quarter since April, evaporating more than ten billion euros.
What do people say using Philips sleep apnea devices?
User (51), wants to remain anonymous
'I want the bottom stone to come out'
"I used the Dreamstation for half a year, when I had to have a CT scan of my liver because of strange pain. Small tumors appeared at the bottom of my lungs. The oncologist could not explain why. After a treatment, there is still one, which doctors regularly monitor with CT scans.
"I'd like to know if this has anything to do with the devices, if I got something blown in through that thing.
"It is communicated that we have little to worry about, but it is not clear to me why. I would like to have my device examined and the bottom stone revealed."
Theo Broekman (65)
'What are the long-term disadvantages?'
"I was shocked for a moment. Can such a device harm my health? My doctor advised me to start using the Dreamstation again. There was no need to stop immediately. I also noticed that I have the device for a reason.
"Sleep apnea causes you to wake up when you are just in your deepest sleep. Your breath catches, and the body is startled awake. That's devastating. It happened to me in the past that I fell asleep at the wheel because of the complaints.
"I think it's neat that Philips has come out with this problem. I do feel sorry for them, they have to replace a lot of devices. It will be a big loss.
"Still, I do have some uncertainty about it: are there any long-term disadvantages?"
Bruno Molijn (68)
'Philips has explained it all unclearly'
"I didn't put it on overnight because of the news. But I thought to myself: soon I will be tired again during the day and not concentrated. The idea of ​​being a bit fitter is very nice.
"Philips has explained it all unclearly. How high is the risk exactly? What percentage of users may experience harmful side effects? The statement that it is more harmful not to use the device leads me to suspect that the risk is not very high. It's not in my nature to be very concerned right away. In short, I'm not too concerned."
The uncertainty about the risks of Philips apnea devices will remain for users for a while
Source link The uncertainty about the risks of Philips apnea devices will remain for users for a while