Business
This is how the Netherlands reacts to the end of the hard lockdown: 'Government's understanding is gone' | Coronavirus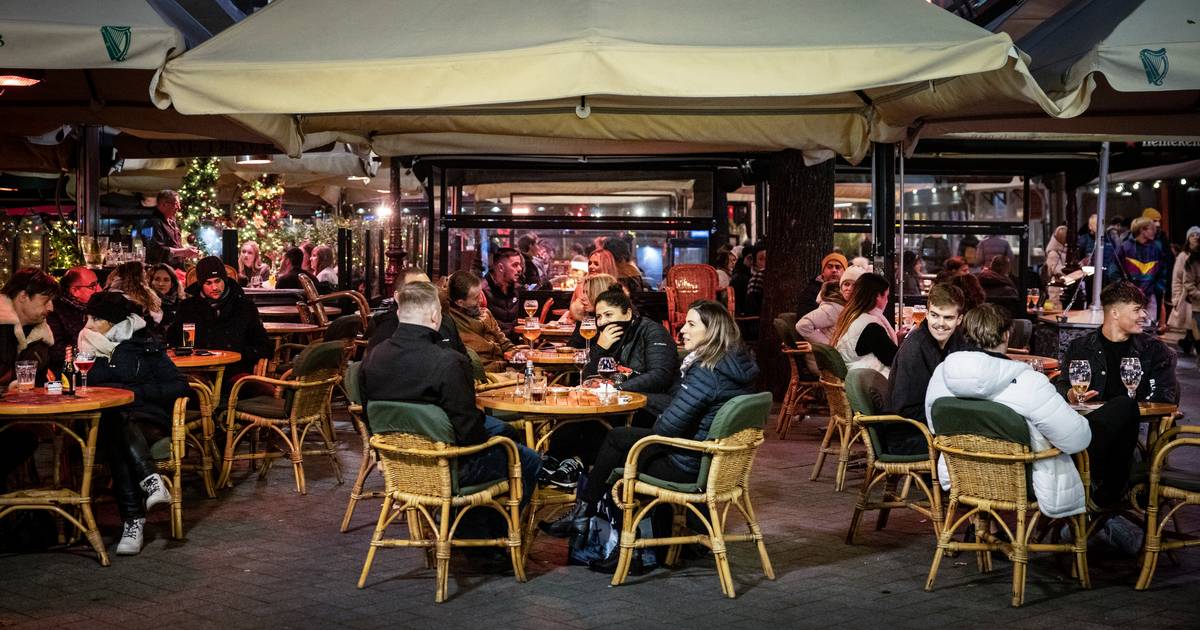 culture remains closedAfter a turbulent period, the end of the hard lockdown is finally in sight. Shops and contact professions can open their doors again and students are allowed to go back to school. There is a lack of understanding among entrepreneurs in the cultural sector: they will remain closed for the next week and a half. The reactions to the press conference are therefore mixed. "I also wonder where the mind of the cabinet has gone."
Entrepreneurs in the cultural sector are not happy with the new developments around the relaxation of the corona rules to say the least. Shops are allowed to admit people without an appointment from tomorrow, while there are restaurants and cinemas no space. "We have our backs against the wall," NVBF director Gulian Nolthenius told this site.
The sectors find it disastrous that the cabinet is once again putting the cultural sector at the bottom of the list. "This is a big disappointment," Nolthenius van de responds cinema industry. "There is really no reason to keep us closed any longer. At the time, the cabinet was able to see with its own eyes how well we have arranged things here. We just want to open immediately, just like everyone else. If necessary with 1,5 meters away, mouth caps and a corona ticket.
Chairman Robér Willemsen of Royal Horeca Netherlands meanwhile wonders why the space is not distributed fairly, as he said was agreed. "Why the shops now everything, and the catering industry and culture nothing," said an irritated Willemsen.
"You think you can no longer be surprised with this stupid policy, and then it happens again," Willemsen sighs. "Our supporters are really not going to take this. There is a lot of anxiety and anger. I suspect that what will happen tomorrow in Limburg will be followed nationally. We are not calling for civil disobedience, but we are supporting the entrepreneurs who will do so.
Hotel and restaurant chain Van der Valk may throw open all its restaurants if "no appropriate perspective" is offered. That is what the chain, good for approximately 75 locations in the Netherlands, says in a letter to the cabinet. "We respect the rules so far, but cannot guarantee that we will continue to abide by them without this perspective." A number of restaurants will open tomorrow as a protest.
Also Gordon will open its catering businesses in Amsterdam and Blaricum tomorrow. In a video on Instagram, the artist and catering entrepreneur says that they do so because the current situation is 'unsustainable' and 'no longer accountable'. He also calls on other catering entrepreneurs to do the same.
Culture
According to event organizer ID&T It is 'inconceivable that the entire culture and event sector has been completely ignored in this round of minimal easing'. 'We emphasize once again that the current policy is completely destroying the once thriving events sector – which employs 100,000 people, both economically and internationally,' CEO Ritty van Straalen said in a written statement to this site. 'We are being overtaken on all sides by the countries around us where anything is possible on the basis of studies that have been conducted in the Netherlands. With this policy, the Netherlands is the laughing stock of the class.'
There is now a loud cry in the events sector that the cabinet must come up with a long-term plan within 'a very short time' with 'agreements that can be fulfilled'. "Entrepreneurs no longer have any reserves and must be given certainty," says Willem Westermann, chairman Association of Event Makers (VVEM) against this site. In addition, it is very important for our industry to indicate the measures in the longer term instead of on this short, two or three weekly basis. The cabinet can only make this mistake once: saying on Friday evening what should happen on Saturday and later is unacceptable."
Museums find it 'downright disappointing' that the cultural sector will remain closed for the time being. "The difference made between commercial and cultural transfer locations is inexplicable," the Museum Association responds to the new corona measures.
"Why can the Bijenkorf open and museums not", the association wonders. She states that museum visits can be safe and responsible. "People crave (safe) escape from the pandemic. For museums and especially for visitors, we say: let museums open again soon."
Stores
Major retail chains are eager to reopen their doors to customers if the cabinet decides to relax the corona rules as expected. "We are ready to turn everything on," said a spokesperson for the retail chain Action. "The online reservation system for store appointments has been tested and we are well stocked."
Mirage Retail Group, the parent company of Blokker, BCC and Intertoys, let you know that the script is ready. "The company is excited that more can be done. If necessary, people can call to make an appointment. Clothing store chain C&A is 'certainly' ready, a spokeswoman indicates. There is sufficient staff and stocks are in order, according to the spokeswoman. "We will open tomorrow if we can."
"We are eager to open. The store staff would love to receive people again," says the electronics chain Media Markt. Customers could already schedule an appointment for Saturday on Friday, a MediaMarkt spokesperson reported earlier.
hairdressers have been completely flattened for appointments since the news leaked that barber shops will probably be allowed to open again on Saturday. Among other things hair and beauty booking website Treatwell, which has more than 3,000 affiliated salons, is seeing a 'mass run' on hairdressing appointments, a spokeswoman said.
Treatwell already registered a doubling in bookings yesterday and expects more later in the evening. People mainly book appointments with the hairdresser, but also want to have their nails and eyebrows done. The same peak arose at the previous reopening of the hairdressers, according to the spokeswoman.
Education
The universities are pleased that physical education can be given again, says Pieter Duisenberg, chairman of the umbrella organization Universities of the Netherlands.Good news that education can be given physically again and that students and lecturers can meet on campus again regularly," says Duisenberg. "Given the rising infection rates, we handle this as safely as possible and we pay full attention to concerns among employees and students. Of course, we therefore stick to the well-known safety measures, such as good ventilation. The use of mouth caps will also be extended to all situations in which it is not possible to keep 1.5 meters away.
Also the Interurban Student Consultation (ISO) responds with relief. "Physical education gives students the breathing space they crave, even with a mask on," says ISO chair Lisanne de Roos. "Education is necessary for students to develop in the broadest sense of the word. We must not and cannot halt this development any longer."
Sport
Football Association KNVB understands the threat of the clubs to reopen their stadiums to the public, although this is not allowed under the corona measures. "We understand the emotions at the clubs very well," the KNVB reports in response to the statement of the Eredivisie CV (ECV) and the Coöperatie Eerste Divisie (CED).
"The information from the GGD shows that there are no infections in the stadiums. Scientific research has shown that a stadium visit is safe and responsible with precautions," according to the KNVB. ,,The travel movements are few in numbers, because most fans live a short distance from the stadium. There are no substantiated arguments for closing stadiums. However, that happened two months ago. Millions are lost and there is no prospect. So it's excellent that the clubs are talking to their mayors to see if they can open after all. In the meantime, we will continue to talk with the minister to find solutions."
The clubs from the Eredivisie and Keuken Kampioen Division say 'no longer' can play without an audience. "The stretch is out," said a joint statement. The clubs demand that they can again allow visitors to their stadiums from January 28. If not, they threaten with a demonstrative opening. "Every club will discuss this with its mayor."
Gym Owners are 'obviously delighted' that they can once again contribute to the vitality of the Dutch, says director Ronald Wouters of trade association NL Active. The sector has always emphasized that sports can make a positive contribution because it can increase resistance to the corona virus.
The industry has anticipated the cabinet's decision and Wouters assumes that gyms can open their doors as usual. "Our people are eager to get started," he says. "Athletes are also looking forward to it."
Work sector
The relaxation offers hardly any solace for independent entrepreneurs. According to representative of the self-employed in the Netherlands (VZN) there needs to be more support for this group soon. According to VZN, it is not yet clear that the cabinet wants to look at possibilities to improve support.
Earlier, VZN pleaded with Platform Independent Entrepreneurs for lifting the hard lockdown for all sectors. According to the organizations, that is still the best solution. Fortunately, shops and hairdressers can open again without an appointment until 5 p.m., but self-employed in the catering, cultural and event sector are still out in the cold," said VZN. "The choices made are difficult to understand and completely insufficient to help independent entrepreneurs out of the fire."
CNV thinks it is 'good' that the cabinet is taking the first steps to reopen society. According to the union, the Netherlands cannot handle much more. CNV argues for 'maximum government support' for affected entrepreneurs and their employees. "Otherwise, the chance is too great that many workers in the retail, catering and beauty industry will lose their jobs," the union said in a statement.
Chairman Piet Fortuin notes that support for the corona policy is crumbling. This is reflected in, among other things, catering entrepreneurs, who open their doors again despite the fact that this is not allowed. "It is up to the new cabinet to substantiate decisions as well as possible. Especially now that hospitals are emptying and the omikron variant seems to be milder than we previously thought," says Fortuin.
Now that the shops are allowed to open again, trade union FNV of employers that particular attention is paid to the safety of shop staff. For FNV, safety is number one. "Employers really have to work to ensure that store employees can work safely," emphasizes the union.
Politics
Minister Micky Adriaansens of Economic Affairs thinks her colleagues 'present a reasonable package, or at least something that seems reasonable'. The VVD minister says she has stood up for entrepreneurs, but the cabinet has 'balanced all interests', she emphasizes.
"It all takes a very long time and everyone wants to get started and earn a living," said the minister. But relaxation must be possible 'safely and responsibly', she adds.
Free unlimited access to Showbytes? Which can!
Log in or create an account and never miss a thing from the stars.

Yes, I want free unlimited access
This is how the Netherlands reacts to the end of the hard lockdown: 'Government's understanding is gone' | Coronavirus
Source link This is how the Netherlands reacts to the end of the hard lockdown: 'Government's understanding is gone' | Coronavirus