Education
This summer, children can feel like an explorer at Batavialand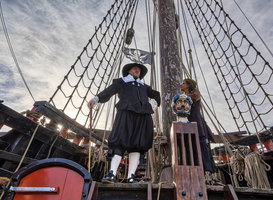 Due to the Corona measures, many Dutch people choose to go on holiday in their own country. Batavialand is responding to this by organizing a voyage of discovery in its own country. The expedition focuses mainly on families with children, but there is also plenty to do for adults.
Map and Compass
Using a treasure map, visitors will visit all kinds of locations that show the tools and instruments that an explorer needs. A map or compass, for example, used to look very different than it does today. The children learn to recognize these items by using the search tables. Fortunately, the children don't have to do that alone, experienced explorer Pieter Jongszoon van den Adel is ready to help!
Really on an expedition
At the end of the visit, the children really go on an expedition in an as yet undiscovered country. Here they come face to face with the Stuff Scanner, a device that tells stories about the stuff they put on the desk. For example, what is a Jacob's staff? And would you rather take water or beer with you on the road? The Stuff Scanner has been developed by Batavialand in collaboration with Go Wonder.
By: National Education Guide
This summer, children can feel like an explorer at Batavialand
Source link This summer, children can feel like an explorer at Batavialand