Education
TU Delft has a laboratory to make the electricity grid future-proof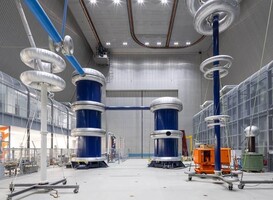 The most recent IPCC report does not lie. Humans are causing an unprecedentedly rapid global warming. In order to limit warming to 1.5 degrees, and thus achieve the climate goals, the Netherlands must obtain more electricity from sun and wind. But is our electricity grid really ready for that? The answer is no.
ESP Lab
Tim van der Hagen, chairman of the board and rector magnificus of TU Delft, explains it as follows: 'We are at a turning point in history. We have a duty and the ability to limit global warming to one and a half degrees. To this end, we will have to organize our energy supply in a different way, among other things. To make this transition a success, smart innovations and an integrated approach are needed. Knowledge and expertise from all corners of society – companies, policymakers, business developers and social scientists – must be bundled. And that will happen in the ESP Lab from October.'
Route to a sustainable future
Maarten Abbenhuis, chief operations officer (COO) of grid operator TenneT also confirms that the ESP Lab is the place where we jointly determine the route to our sustainable future. Abbenhuis: 'We once built high-voltage grids to meet the demand for electricity throughout the country. The network is now turning into a European multifunctional connector of a dynamic electricity supply, a controllable demand for energy and a link to storage in molecules and electrons. The ESP Lab is the place to develop and test these innovations in relation to the entire energy system so that their integration can take place successfully. This is an essential step to ensure the safety and reliability of the electricity grid, now and in a future where everything is connected. It is therefore logical that TenneT is a partner from the very beginning.'
Mini-documentary
During the opening of the ESP Lab – which has a small-scale implementation due to the current COVID-19 measures – the social relevance of the laboratory is further underlined with the premiere of a mini-documentary. In this, Professor Miro Zeman, scientific initiator of the project, gives his vision on accelerating the energy transition. 'A sustainable power supply starts with generating sufficient green power,' explains Zeman.
computer simulation
'The sun, which serves as a guideline in the documentary, plays an important role in this. One of those smart innovations being worked on in the ESP Lab is adding a bit of intelligence to solar cells to achieve maximum energy yield under widely varying shadows. In the ESP Lab, however, we also design future-proof components (such as new high-voltage cables and power electronics) for the safe and loss-free transport of green electricity. And what about our Digital Twin – a large computer simulation with which we test the reliability and security of the current and future grid? The fact that all these smart innovations can now be found under one roof is unique worldwide.'
With the ESP Lab, TU Delft not only has unprecedented opportunities for new research; the laboratory has also recently stood out from an architectural point of view. For example, the ESP Lab has been nominated for the NRP Gulden Feniks – the prize for sustainable and innovative renovation and transformation projects – as well as the ARC Award (Detail category).
External influences
Pelle Poiesz, who was involved in the design on behalf of HP Architecten, explains the two nominations as follows: 'What makes the ESP Lab so unique architecturally is that each research area has its own piece of lab environment, with specific requirements in the field of electronic isolation from the outside. That is why we have incorporated different layers of shielding in the design to counteract external and mutual influences – such as electromagnetic radiation, sound, vibrations and light. Take, for example, the impulse generator that simulates a lightning strike with four million volts; that generator is located less than five meters from a very sensitive supercomputer, which must continue to function during testing. The fact that all of this has now been brought together, in a temple where the electricity grid is being made future-proof, makes me incredibly proud.'
By: National Education Guide
Image: TU Delft
TU Delft has a laboratory to make the electricity grid future-proof
Source link TU Delft has a laboratory to make the electricity grid future-proof