Netherlands
'Tumult in the courtroom after De Pauw's defense questions the women'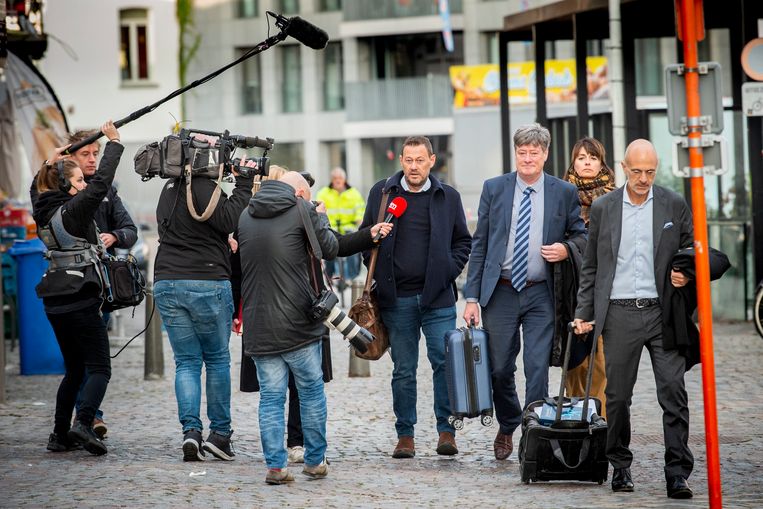 The day started with a word from the women who took part in civil proceedings. What else did they want to say?

Bergmans: "Actress Ella-June Henrard told how hard she refrained from De Pauw's comments during the recording of It's Showtime. He'd made comments about how horny he thought she was in a skirt, knowing she'd have to wear a short skirt the next day on set. That felt humiliating to her and threw her off balance.
"A young woman who did an internship at Bart De Pauw's production house also wanted to say something. She felt touched 'in the depths of her being'. But most striking was the moment Cafmeyer spoke.
"She said it felt like a strangulation to her. She turned a quarter turn to the dock and spoke directly to him to say she still loved him, but couldn't understand how he could have behaved like that."
How did De Pauw react?

"He looked at Cafmeyer, but his emotions were unreadable. Just as he allowed the hours-long plea of ​​the bourgeois parties yesterday.
"In the morning, when he arrived at the court, he showed himself to be combative. Unlike yesterday, he had his wife Ines De Vos by his side today. He spoke to the press until they pulled him away.
"It was clear that he would not start with a guilty plea as the Public Prosecution Service had requested yesterday."
What arguments did we hear from his lawyers?

"They admit that De Pauw sent messages that were overwritten and inappropriate, but they don't think there was any harassment.
"They believe that this file has run amok from the start, due to the activism of some of the bourgeois parties. In contrast to the Public Prosecution Service, De Pauw's defense attaches little credence to the women's testimonies.
"According to them, the complaints arise through what they call 'collaborative storytelling'. The best example is Jenka Van de Voorde, who would first support De Pauw, including in an open letter from employees of production employees of Koeken Troef, but later came up with a story that is indistinguishable from the other ladies. By talking to each other, the women would unconsciously come to similar testimonies. Those comments about the bourgeois parties, which are widely present, led to a commotion in the courtroom. The judge had to intervene several times to call for serenity."
Didn't the lawyers also have legal-technical reasons to bring this case down?

"Yes, that's because bullying is no longer a complaint crime since 2016. The public prosecutor's office has therefore started a case against De Pauw on its own. The lawyers now argue that all 2016 facts should not be dealt with for that reason.
"We have listened to specialists, and it is not really easy to know whether their reasoning is correct. In any case, it is remarkable that this is only now showing up. You would expect that the council chamber has already looked into that.
"Moreover, he is not only on trial for harassment, but also for electronic nuisance. Those technical objections do not apply to the second indictment. For electronic nuisance, there must be malicious intent, which De Pauw's lawyers dispute."
What's next?

"De Pauw's lawyers continue their plea. Then the replies will follow, and Bart De Pauw himself will also have the floor later today."
'Tumult in the courtroom after De Pauw's defense questions the women'
Source link 'Tumult in the courtroom after De Pauw's defense questions the women'