Education
Two cum laude PhDs in one day at the University of Groningen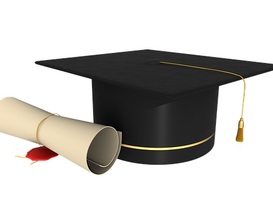 Alyona Artamonova and Mindra Jaya defended their dissertation at the Faculty of Spatial Sciences on Monday 20 June. Both theses were assessed cum laude. That is very special for the faculty, twice cum laude in one day has never happened before. This is reported by the University of Groningen.
In her research, Alyona Artamonova analyzes the roles that various care-related living conditions of elderly people play in their own location choice and that of their relatives. The research is strong because of the way of doing research. This was done in a thorough and innovative way. The concrete way in which important questions in the field of migration are answered is also very strong.
Contageous diseases
In his research Mindra Jaya developed methods for the analysis, prediction and mapping of the spread of infectious diseases. Focused on dengue fever in Bandung and COVID-19 in West Java. The research presents several innovative methods to prevent the spread of infectious diseases. These methods are well applicable worldwide.
Both theses can be found online.
By: National Education Guide / Femke van Arendonk
Two cum laude PhDs in one day at the University of Groningen
Source link Two cum laude PhDs in one day at the University of Groningen