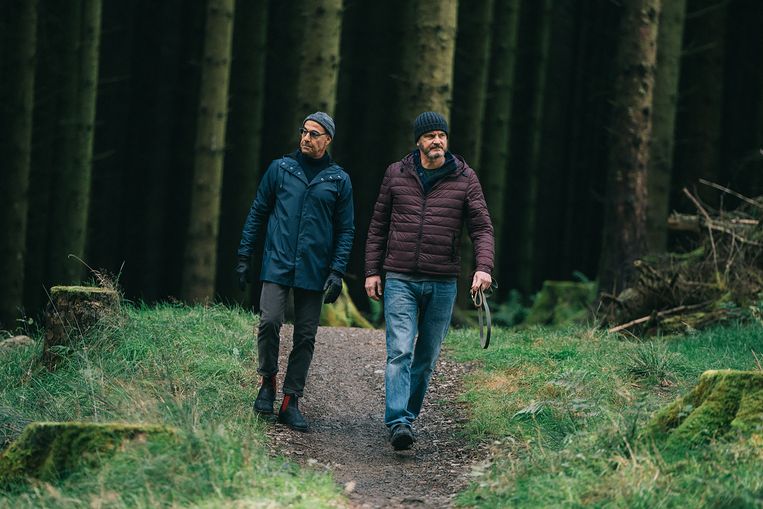 Dying stars – supernovas – shatter into dust, from which we too are built. Particles that washed ashore from the corners of the universe to form our temporal bodies. Amateur astronomer and novelist Tusker (Stanley Tucci) teaches it good-naturedly to a niece, at a surprise party for his partner Sam (Colin Firth). And the viewer of supernova already know that this Tusker looks forward to his own death, or the deaf. Dementia gradually but irrevocably crumbles the mind of the early sixties.
The main characters – Tusker and Sam – of screenwriter and director Harry Macqueen's understated drama have a good relationship. Two men who after twenty years know each other through and through, and now go on a memory journey through the natural beauty of the English Lake District. Routinely and lovingly bickering in their camper, chugging past family, friends and familiar old places.
Both achieved some success in their creative professions overseas, as writers or concert pianists. And now they live in stoppage time: the disease will make one caregiver, the other patient. Sam is still in denial, or trying to cheer Tusker up. But he doesn't seem likely to do that.
Dementia, whether early onset or not, has been a popular topic in cinema for years. And also 2021 will be marked by several striking and strong titles, from the Alzheimer's horrorhor relic expected in Dutch cinemas until the end of the summer The Father, in which Oscar winner Anthony Hopkins dances phenomenally past the holes in his memory.
supernova is packaged less spectacularly: a soft, calm and even slightly tame relationship drama. But Macqueen, who is also an actor, gives just enough space to his two protagonists, who both excel at serving hidden emotion. In this way enough pain and subcutaneous emotion always seep into the scenes. Firth is touching like the somewhat inhibited, so well-meaning Sam. Tucci is moved at the moments when his Tusker sometimes – and unintentionally – drops his cover and suddenly turns out to be more vulnerable than expected.
When Sam secretly flips through Tusker's notebook, who continues to work on a new novel, we see the first meticulously erect handwriting gradually sinking down, before turning into illegible fiddling. In the end, only torn or empty pages remain. It is a wry and unmistakable picture of the devastation: dementia wrote its own book.
supernova is the portrait of two lovers who hide their fears from each other, until that is no longer possible.
supernova

Drama
★★★ ☆☆
Directed by Harry Macqueen
Starring Stanley Tucci, Colin Firth
94 min., in 47 halls.
Two lovers who hide their fears until it stops
Source link Two lovers who hide their fears until it stops