Business
Who gets those one and a half million shots a week?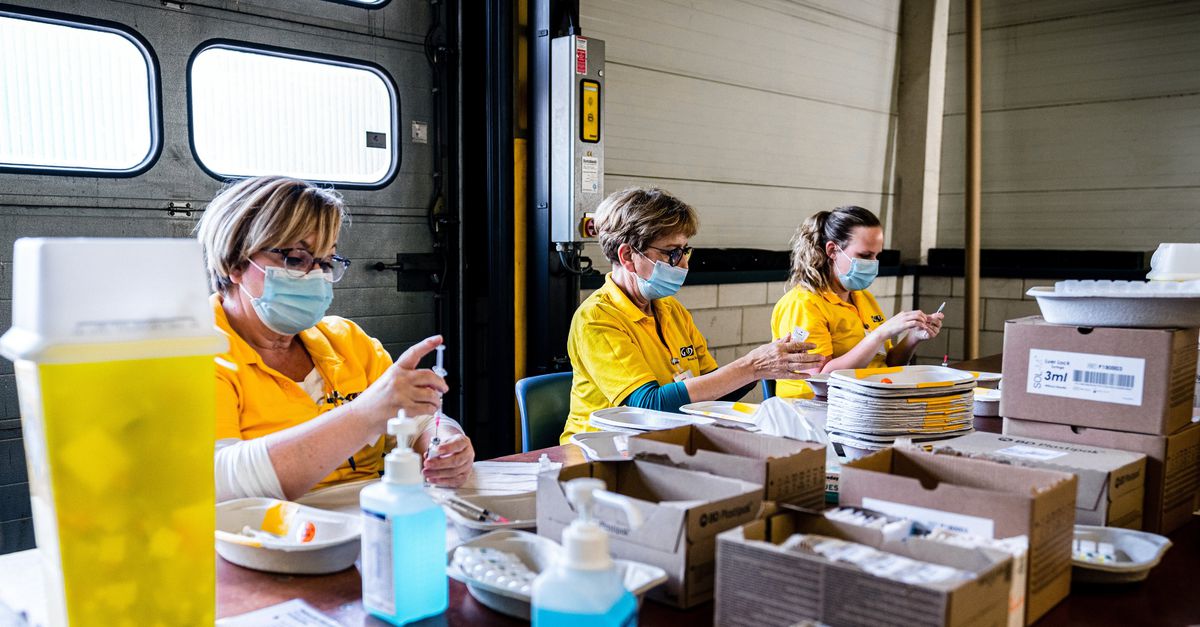 Healthcare worker or not, when the corona crisis broke out, Laura Leussink (47) was also out of work. As a travel nurse at Travel Health Clinic, she 'set' travel vaccinations and gave medical advice to people going abroad. "But that work collapsed when the travel industry collapsed."
At the same time, Leussink saw that the GGD in her region, Twente, was struggling with staff shortages. She has been seconded there since June last year: first as a test employee, now also to administer corona shots. "I do the work with love," says Leussink. "Everyone is fed up with the pandemic. The sooner the world opens, the better."
Leussink is one of tens of thousands of new employees of the GGD, which has grown into one of the country's largest employers since the pandemic. The national umbrella organization GGD GHOR does not have precise figures, but according to a 'cautious estimate' by the spokesperson, the 25 regional GGDs now offer around 40,000 jobs.
The 25 GGDs are now estimated to provide around 40,000 jobs0.000
That is a more than threefold increase of the 12,000 full-time jobs (FTEs) that the GGDs had before the crisis. And because many employees work part-time, it is likely that the number of people employed by the GGDs is considerably higher. In 2018, only the police (more than 61,000 FTE) and defense (more than 57,000 FTE) offered more full-time jobs in the Netherlands, according to research by de Volkskrant.
Thousands of shots a day
With the vaccination campaign gaining momentum, the GGDs mainly recruited personnel for the vaccination locations in recent weeks. Since June, the GGDs have had to administer at least one and a half million injections a week, according to outgoing minister Hugo de Jonge (Public Health, CDA). But who are those people who now stab thousands of pricks in their upper arms every day?
Recruiting staff for the vaccination campaign and other corona-related work is done by the regional GGDs themselves, according to the umbrella organization GGD GHOR. Until now, every region would have managed to find personnel in time to administer the available vaccinations.
At the vaccination locations, vaccination workers are needed, among other things, and doctors who provide medical supervision. In addition, people without a medical background work there: hosts and administrative staff. There are no national rules for recruitment. Local GGDs can determine job requirements and salary themselves, let GGD GHOR know.
An exception to this is the position of medical supervisor. He or she maintains a medical overview at a location, bears ultimate responsibility and must intervene in emergency situations – for example when someone has an allergic reaction to the vaccine. The supervisor must be a doctor with a so-called BIG registration. This register contains all Dutch healthcare providers.
Healthcare background required
Although there are no national job rules for vaccination personnel, a survey conducted by NRC among ten nationally distributed GGDs that almost everywhere are only allowed to inject people with a care background. Vaccination employees receive a digital course in advance, with information about getting the shot, how the vaccines work and possible side effects. At all injection sites, preparations are also made with preparing for syringes and pricking the upper arm.
At the GGD Twente, only (former) care employees, such as nurses, doctor's assistants and doctors, and advanced nursing or medicine students are allowed to work as a stinger, a spokesperson reported. "We are looking for people who already have experience with vaccination based on their education."
This also applies to the GGD Rotterdam-Rijnmond and GGD Hart for Brabant. "The GGD is not a training institute, we only offer new employees a short induction process," says the GGD Hart voor Brabant. "Vaccination is an act that someone must already have experience with before he can come to work here."
Exploded inbox
The GGD in the Utrecht region is even more selective, says director Jaap Donker. This was possible because the supply of personnel in his region was large. "One advantage of such a major crisis: everyone wants to help. My inbox exploded with messages from people who wanted to contribute. Heart warming."
Of the 7,100 GGD employees in his region, approximately 3,200 people vaccinate. From January, the region will train 250 new colleagues every week for work to combat the pandemic.
As a medical student, you know something about how vaccines work. Handy for critical questions

Merel Mulder (22) Vaccination officer GGD Hollands-Midden
Employees who vaccinate must have a background in healthcare and recent experience with injections – preferably within the past two years. Medical students are therefore not automatically welcome. Donker: "That depends on how far they are with their training and whether they already have practical experience with injections."
Other GGDs are slightly less strict due to the scarcity of suitable personnel. For example, those in the Hollands-Midden region, says vaccination officer Merel Mulder (22). She had completed her bachelor's degree in medicine when she started here in January – with no practical experience with injections. She was prepared for this during a crash course: "I followed the training with all retired nurses. That was nice. They are experienced and taught me a lot."
Mulder's study background also helps: "As a medical student, you know something about the effect of vaccines in a general sense. That is useful, for example when people have critical questions," says Mulder. "And during the study you practice a lot with patient contacts and you see, for example, what helps if someone is nervous or anxious."
No beauticians
The GGD Limburg-Noord initially only hired healthcare employees with injection experience, says Ronald van Litsenburg, owner of medical service provider Event Medical Service. His company was called in by the regional GGD to help recruit staff. "When things got tighter, we also started looking at nursing and medical students who had not yet completed the vaccination course," he says. "They receive a half-day training in which they receive theory lessons, practice and do injections under the watchful eye of a doctor."
Experience with vaccinations or not, affinity with the medical world remains a requirement, says Van Litsenburg. "We also received applications from beauticians who had ever had a botox injection and therefore wanted to prick. Well. That is of course not possible."
Prik employee Leussink is satisfied with her temporary job at the GGD. She thinks it's nice to be able to help people. She sees, especially in the elderly, that the discharge is sometimes large when the jab has been taken. "They feel like they are finally getting some freedom back. Some really make a trip out of it."
For example, a man in his late 90s came to the vaccination site especially in a three-piece suit. "Very touching, but a bit clumsy. It took a while before the suit was out and the prick in his upper arm was possible."
Also read: The demand for extra 'corona hands' already increased last year

Who gets those one and a half million shots a week?
Source link Who gets those one and a half million shots a week?