Education
With Prospect4Cash! Arnhem wants to keep young people away from crime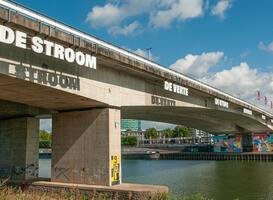 Letting young people discover their talents through paid work at an Arnhem entrepreneur: this honest counterpart to cutting, couriers and other criminal emergency services in the drug trade is the core of the Arnhem approach Prospect4Cash! to keep young people away from the criminal circles that recruit them in the Arnhem-East districts of Geitenkamp, ​​Presikhaaf, Malburgen, Klarendal and Broek in Arnhem. At the initiative of the municipality of Arnhem, a collaboration is therefore starting with the Arnhem-born entrepreneur Toni Iñiguez Najdanovski of Antonio Shining Places and the employment agency HTR-werks. Mayor Ahmed Marcouch signed a cooperation agreement with the entrepreneur until the end of 2022. This is reported by the Municipality of Arnhem.
Mayor Ahmed Marcouch: "Too many young people in Arnhem opt for drug trafficking and other serious crime. Together with the police, we will catch the criminals, but at the same time we will prevent the new arrival of errand boys. So we are going to offer our young people the opportunity to take their lives into their own hands. to take the royal road to an income of their own: a paid job, away from criminal circles that abuse them for the chores, on the slippery road from bad to worse that inevitably ends in jail and lately increasingly in a grave. In this collaboration with Antonio Shining Places and employment agency HTR-werk, our young people will find out how they can earn money with what they are good at, if necessary through promotions from one job to the next. this form of public-private partnerships with paid jobs for motivated young people who acquire new knowledge and skills. believed that the first barriers could be overcome with a program such as Prospect4Cash."
Prospect4Cash!
The approach under the name Prospect4Cash! offers prospects, focuses on young people aged 16 to 21 and aims to help young people find, learn and keep work, and thereby also help them discover their talents. Toni Iñiguez Najdanovski and the youth workers from AM-Support, Presikhaaf University and Rijnstad play a crucial role in this, because: youth work knows the young people and the entrepreneur knows the Arnhem entrepreneurs. The youth workers introduce the young people, then an accessible intake follows, after which they are registered and then it is looked at the best place where a young person can work, with an immediate salary and possibly permanent work. Mayor Ahmed Marcouch: 'What a huge difference between young people who can work steadily for a bright future with a certain income in the midst of the family that builds on and relies on them and, on the other hand, the boys who are on their own, always on the run, threatened with rip deals, suspected of treason and in danger from rival gangs. So parents and youth workers, register these young people with us before their path comes to a dead end.'
Getting off the street, to school and work
Prospect4Cash! is part of the Broad Offensive Against Subversive Crime (BOTOC) – the Arnhem program that will be funded for two years by the Ministry of Justice and Security against organized and subversive crime, which always needs new growth for the local running gear. In addition to Prospect4Cash! Among other things, an intensive counseling program has been launched for 60 young people who are offered personalized customization so that criminals cannot get a grip on them. In some primary schools, the municipality is starting a preventive intervention team (PIT) to also provide the youngest children and their parents with help. The street coaches are also part of this BOTOC program, which has been active in Malburgen and Presikhaaf since May to take nuisance-causing young people off the streets, to school and work.
By: National Education Guide
With Prospect4Cash! Arnhem wants to keep young people away from crime
Source link With Prospect4Cash! Arnhem wants to keep young people away from crime