Education
working from home for mothers of young children is sometimes very difficult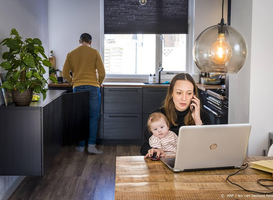 Mothers with young children had access to their own workspace in only a third of the cases, while this was true for more than half of the fathers. According to the SCP, this is part of the statement. The fact that children with a question go to the mother earlier because she is usually at home more often could also play a role. The study was conducted in the fall of 2020 when schools and childcare were open.
Cabinet wants to encourage working from home
The government is considering continuing to encourage working from home. It would benefit employees, reduce the environmental impact of commuting and potentially entice people with caring responsibilities such as mothers with young children to work longer hours. Now that it appears that the work-life balance for this group is not increasing, it is not likely that mothers of young children will work more, according to the SCP.
Benefits
The SCP considers it necessary for agreements to be made between government, employees, employers and other parties about working from home in order to be able to offer tailor-made solutions. For example, the 10 percent of employees who indicate that they find working from home very taxing should be given priority for a place in the office.
The main advantage for home workers, according to the SCP, was the ability to determine the start and end time of the work. As a result, employees were able to better connect their work with private life. The chief adviser to the government advises employers to talk to employees about how to maintain these benefits of working from home to make work more attractive. Employees would then be more inclined to work more hours.
By: ANP
working from home for mothers of young children is sometimes very difficult
Source link working from home for mothers of young children is sometimes very difficult