Netherlands
Yung Mavu & Chuki Beats: 'YouTube was becoming my nine-to-five. I now mainly want to make records and perform'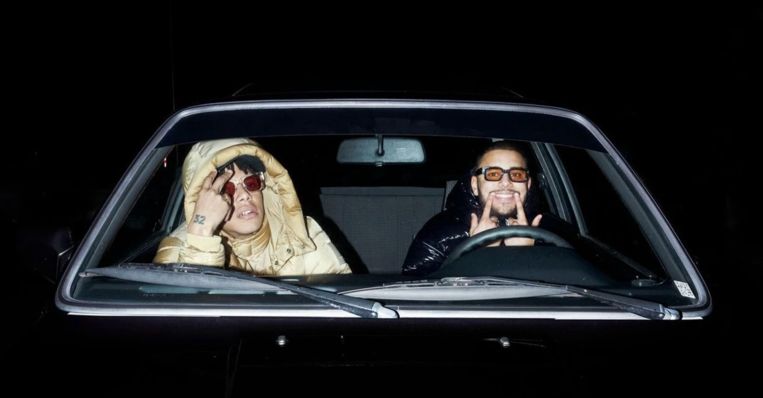 In 2017, the then 16-year-old rapper Yung Mavu went viral with a video of his Harry Potter song 'Black Magic': five years later he has 31 million (!) views on YouTube. Producer Chuki Beats has been earning his money for years on the video platform with tutorials, own songs and productions for others, which he calls 'The Sauce'. Yung & Chuki bring soon Matter of Time II out, the sequel to Matter of Time†
Chuki, on YouTube I often see you start off with your electric guitar when making a beat. Do you know when you will use which instrument?

Chuki Beats (26): "No, I couldn't even think of a rule. And with Yung Mavu, everything happens very organically and in the moment anyway.
Yung Mavu (21): "Matter of Time II has been devised line after line, bar after bar. Sometimes there is something on my phone or laptop, but most of the time everything is in my head. I certainly couldn't explain how to rap in a tutorial on YouTube (laughs)† I started in Dutch through Seba & Karma, and I switched to English through Drake and Tupac."
Chuki Beats: "Yung Mavu was born to be the center of attention. His brother's birthday party will still be about him, you understand?"
Yung Mavu: "I don't think about it until someone tells me: it shouldn't be about you all the time."
Chuki Beats: "As a producer, I'm not going to get in the way of the showman in him."
There's a lot of depressed diary hip-hop these days, but you're not getting into it.

Yung Mavu: "Yes, that will come (laughs† I just finished a record full of heartbreak, where I self-confidently rap about the man I am and the mistakes I've made. But on this record we are young and happy."
Chuki, in your vlog posts there is often a lot of people in your studio.

Chuki Beats: "My friends used to sit in my room playing PlayStation while I was making beats. I always thought that was fun."
Was YouTube a revenue model all those years?

Chuki Beats: "Anyway. My two YouTube channels were among the largest in Belgium. I made five tutorials for beginners with a million views. There are many aspiring producers worldwide who follow me, it is not that difficult to find advertisers who are willing to pay for it. But that tutorial period is behind me. YouTube was my nine to five to become. I now mainly want to make records and perform."
Mavu, you rap: 'I went big on Twitter'. Tell me: it was 2017 and…

Yung Mavu: "…a girl at school asked me to rap something about Harry Potter. The 30-second video went viral. I had hoped for a thousand views, but after two days it was already a million. When I made a full version of 'Black Magic' it really wasn't normal anymore. I met Chuki the day I got a call from MNM at 7am to ask if I wanted to come to the studio. We talked there for five minutes. Much later, the record company gave me a list of producers to work with, and his name was on it. 'I know that one,' I said."
Chuki Beats: "We both have a black father and a white mother. And we both grew up in a small municipality in Belgium. In my case Lokeren, known for its horse sausage."
Yung Mavu: "I am a proud resident of Sint-Job-in-'t-Goor. That's one street, one kebab shop and one night shop. When I visit my friend in the residential area, I think: I'm going to buy a house here. I don't represent Antwerp, I talk about 'the sixty' ten times in one song. (2960 is the postal code of St-Job, ed.)†
Chuki Beats: "I now live in Brussels. Handy if you want to work with the best as a producer: Frenetik and Geeeko. I recently watched the documentary Jeen-Yuhs about Kanye West. His move from Chicago to New York was recognizable: I moved to Brussels without knowing anyone here or speaking a single word of French, and I also had to take every studio session."
Chuki, in a recent video you were working in a huge studio in a skyscraper in Dubai.

Chuki Beats: "I don't mean to brag, but I am Chuki Beats. I can say: 'I'll be in Dubai soon, in which studio can I film?' In Belgium, your followers on social media are not yet appreciated. In Dubai they don't think: he just makes some videos. They think: he really has an audience."
Do you also listen to old hip-hop?

Chuki Beats: "I'm not going to claim I know everything about Biggie and Tupac. Give me Drake, Kanye, Kendrick and J. Cole.
"But you know, I played guitar as a kid and wanted to start a metal band, and I still do. I listen to Admiral Freebee these days."
Yung Mavu: "When I'm having fun with friends, Lil Durk gets up. And the Super Bowl halftime show was beautiful this year. I've been in my living room yelling to 50 Cent. really sick (laughs† But in my playlists you will find The Weeknd, Montell Jordan, Mark Morrison, Pat Benatar and The Cure."
What's the weirdest thing that's happened to you?

Chuki Beats: "Our performance in Latvia. When we walked into the hotel pool, everyone stopped talking. As I walked to my room, someone asked, "Do you have a room here?" And in the restaurant we had to eat in a room at the back, where there was really no one."
Yung Mavu: "It was our second performance abroad, after Amsterdam. 30 people showed up, but they all flew in really hard."
Matter of Time II is out now. Yung Mavu will play in Trix on April 15th and in Het Depot on April 20th. Info & tickets: facebook.com/yungmavu
© Humo
Yung Mavu & Chuki Beats: 'YouTube was becoming my nine-to-five. I now mainly want to make records and perform'
Source link Yung Mavu & Chuki Beats: 'YouTube was becoming my nine-to-five. I now mainly want to make records and perform'