Netherlands
And now there are five relays: Dutch women win all short track skating titles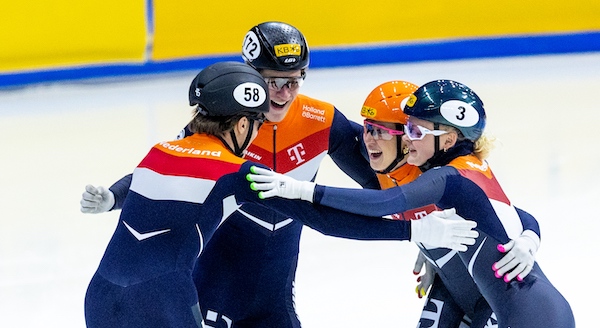 The Dutch women's speed skater won all five qualifying gold medals at the World Short Track Championships in Seoul, South Korea this weekend.
Gold medals in the 500m and 1,500m (and a clean Dutch sweep) were followed by the 1,000m on Saturday and the 3,000m relay and mixed relay on Sunday.
Twenty-one-year-old Xandra Velzeboer won all but the 1,500m, won by Suzanne Schulting, for four gold medals. She leaves Seoul with three pieces of gold.
The men's team had a more disappointing competition with Jens van 't Wout taking the bronze medal in the 500m, his only solo medal.
Van 't Wout and Teun Boer were part of the winning mixed relay team along with Velzeboer and Schulting.
https://www.dutchnews.nl/news/2023/03/and-the-relays-make-five-dutch-women-win-all-short-track-skating-titles/ And now there are five relays: Dutch women win all short track skating titles