Netherlands
Fear and ambushes of the Turkish-Dutch people after the earthquake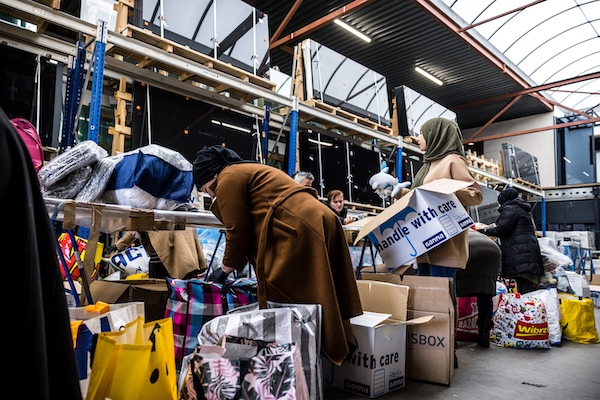 With the death toll surpassing 11,000 after Monday's earthquakes in Turkey and Syria, news of the devastation has been a painful waiting game for many of Holland's 430,000-strong Turkish community.
"I'm safe so don't worry," says 19-year-old Muhammed Guren. "But it's heartbreaking. It's my home prefecture. There's nothing I can do except donate money. I feel sad and helpless. I've been watching Instagram, YouTube, Twitter, and Facebook all day. All I see is earthquakes.
Glenn's maternal family lived in Izmir in the west of the country and thus escaped the worst of the devastation. However, his sister-in-law is from the earthquake-hit central city of Kayseri. "Her family felt the earthquake very badly. They are safe, but their apartment was destroyed," says Glenn, who are now staying at her aunt's house.
Guren appreciates the Dutch people's willingness to help, including his own bank. 'When you log into ING today [Tuesday], to the Dutch Red Cross. I see the Dutch trying to help.
But for others, the first Dutch rescue team to arrive in the area on Monday night isn't enough. To do. 'It's nothing. '
On Tuesday, a second Dutch flight arrived in southern Turkey with rescue workers and 15 tons of equipment to help search for survivors. NOS It has reportedly rescued seven people so far in the hardest-hit Hatay province.
fear and waiting
"I'm waiting, waiting, waiting for survivors, and crying and crying and crying," said the 55-year-old shop owner. "We are alone. We love each other and would like to go and help, but that is not possible. I don't sleep. I just watch TV. If I can go, I to go.
She also said it was impossible to contact friends and family in the affected areas because all communication lines were down. is.
She is from Bursa, in northwestern Turkey, and survived the devastating 1999 earthquake that killed about 17,000 people about 60 miles from Istanbul. "It was heavy. Our car disappeared into a pit. The house shook. The fault line where I'm from." [North Anatolian Fault Zone] older than the location of the most recent earthquake [East Anatolian Fault Zone]He was asleep, but he got up. I'm afraid we will wake up too.
local community
The Milli Görus Mosque in Hilversum is working with the humanitarian organization HASENE International to get the money to Turkey as soon as possible. Ramazan Deniz, president of the mosque, said as of Tuesday he had raised 605,000 euros in the Netherlands and 3.5 million euros across Europe.
"Money will go to Turkey faster than trucks," he says. "We have people working locally, buying and distributing what people need. We also have mobile bakeries that can serve up to 15,000 loaves of bread each.
Thankfully, no one at the mosque lost a family member in the earthquake, he says. "But we are very shocked. We are praying and helping each other to get stronger and stronger."
Giro 555
Giro 555 Doors have also been opened for earthquake victims in Turkey and Syria. "This is a terrifying disaster whose sheer scale is yet to be overseen," said Action Commission Chair Michel Selváez. "We urgently need emergency assistance, including medical care, blankets, food and clean drinking water.
Giro555 last opened in February 2022 after Russia's invasion of Ukraine. Special Account Number is an initiative of 11 aid organizations, including Dutch Red Cross, Oxfam Novib, Save the Children and UNICEF Netherlands.
The Dutch Cabinet further €10 million To support relief efforts in Syria, which has been complicated by years of civil war.
But some people put their faith in God. "We can give money, but we can't do anything from here," says Mukremin Makhmutgrali, who attends the Amsterdam mosque. "We believe in Allah, and He decides.
https://www.dutchnews.nl/news/2023/02/fear-and-waiting-among-turkish-dutch-nationals-following-earthquakes/ Fear and ambushes of the Turkish-Dutch people after the earthquake