Netherlands
Hundreds of climate activists gather in The Hague to blockade A12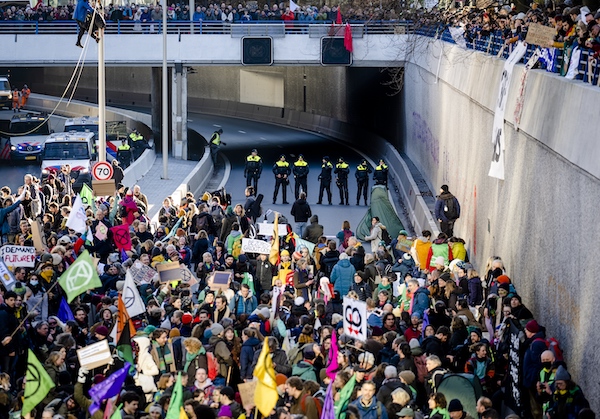 Hundreds of climate activists blocked the Hague's A12 motorway in both directions on Saturday afternoon in protest against government subsidies for fossil fuels such as oil and gas.
About 1,000 people gathered above the underpass to help block highways through the city close to government ministries.
Campaign group Extinction Rebellion called on activists to come to The Hague last week, seven of whom were arrested and charged with sedition.
A banner carried by demonstrators read: "17.5 billion euros of taxpayer money is being spent on fossil fuels." Another said, "This is a dead end street."
Mooie Relaxte sfeer bij @NLRebellion #demonstration #A12 pic.twitter.com/qZqL9HdSMV

— Peter Paul Klostermann (@PeterpaulK) January 28, 2023
"I'm ready to get arrested," one law student told broadcaster NOS. "We're not doing this for no reason. Something has to happen now." And we will stay here until the police take us away.
📢 We steunen vandaag in Den Haag de dappere mensen van @NLRebellion Die de A12 blokkeren.

✋ Zij eisen: #StopFossiele subsidynet als wij en 300 economen. pic.twitter.com/fdNxqOiMRY

— Fossielvrij NL🔥 (@FossielvrijNL) January 28, 2023
Police began removing demonstrators around 12:45, after first calling on activists to clear the area or arrest them. By 2:00 p.m., dozens of people had been arrested and put into buses.
Demonstrators are angry arrested earlier this weekThis contrasts starkly with the treatment of protesting farmers who also blocked the A12, they say.
One of the seven people arrested and banned from participating turned up Saturday anyway. Lucas Winnips told NOS, "The message is too important to not show up.
of volksland It later reported that Winnipes had been arrested.
Representatives of dozens of other campaign groups took part in the ground demonstration and said they were there to protest the way demonstration rights are restricted in the Netherlands.


https://www.dutchnews.nl/news/2023/01/hundreds-of-climate-activists-gather-in-the-hague-block-the-a12/ Hundreds of climate activists gather in The Hague to blockade A12