Netherlands
KNVB Cup semi-final interrupted after Ajax player hit object from crowd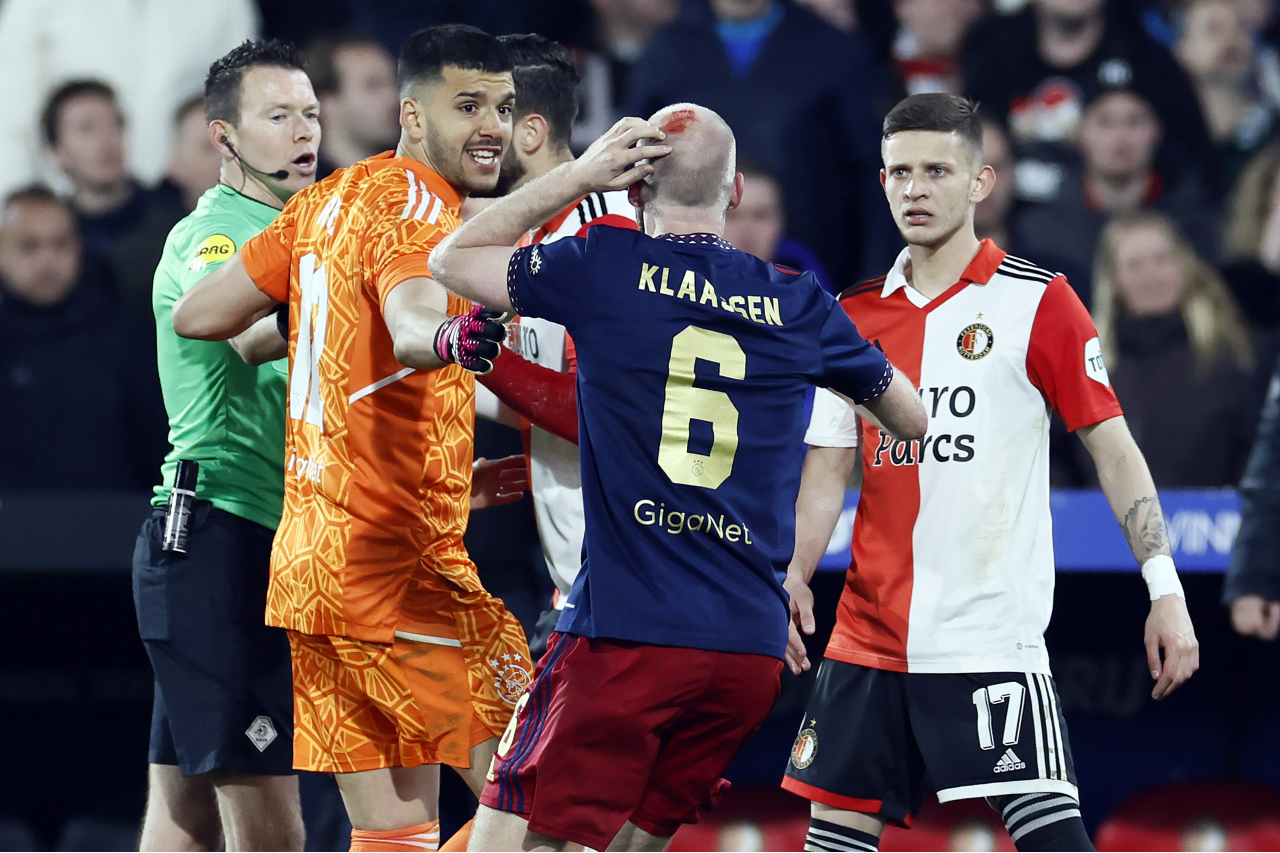 Ajax beat Feyenoord 2-1 to reach the Dutch Cup final, but was overshadowed by an incident in which Ajax's Davy Klaasen was injured by an object thrown by a spectator.
Feyenoord were certain to be sanctioned for an incident that occurred in the 61st minute of the match in Rotterdam, with Klaasen bleeding profusely from his head and referee Allard Lindhout directing the team into the dressing room.
A brawl between the two captains, Tadić and Orkun Kokchu, resulted in heckles from the crowd and a shower of objects, including cigarette lighters, one of which struck Klaasen in the back of the head.
After 30 minutes of negotiations in the tunnel, the players resurfaced and the game resumed, but Klaasen lasted only two minutes before coach John Haitinga had to replace him with Brian Brobby. did not become.
police It said it had arrested a 32-year-old man from Roelofarendsveennear Leiden, suspected of throwing the object that hit Klaasen.
Wim Groeneweg, president of the ACP police union, said it was time for the KNVB to take "tough action" against football hooligans.
Schandalig gedrag van 'supporter(s)' bij wedstrijd #feyaja in Rotterdam Cuyp. Hier kan doortastende optreden van de @KNVB niet uitblijven. Geweld rondom voetbalwedstrijden is (uit)publiek rondom wedstrijden verder aan. #knvbbeker https://t.co/lc7yu0dfFZ

— Politievakbond ACP (@Politiebond) April 5, 2023
"This kind of 'supporters' behavior crosses all boundaries and ruins a fun football night for many people. For our society and the police's ability to keep things in check, it's very expensive.
Ten minutes before the riots broke out, Klaasen had scored the winning goal after the Feyenoord defense failed to clear shots from Duschen Tadic and Steven Bergwijn.
The incident is the latest chapter in a tumultuous history between the two sets of supporters. Ajax fans have been banned from his stadium since 2009, and the Rotterdam club pulled a net out of the stands to prevent objects being thrown onto the pitch last season. was hanging.
In the semi-finals of the cup, the net was removed on the side of the ground where problems arose, but in response to the demands of television broadcasters who wanted an uninterrupted view.
early lead
Ajax were given an early lead in the 13th minute when Markus Pedersen and Alireza Jahanbakhsh collided trying to cut a cross and Dusan Tadic slammed the ball into the net at will.
Jahan Baksh had a chance to make amends for his mistake shortly afterward, but he hit Jeronimo Luli from close range.
However, on the half-time stroke, the Iranian was released on the right side, placing a pinpoint cross to the head of Santiago Jimenez and steering the ball past Timon Wellenreuther.
Feyenoord had the best chances after the restart, with Jimenez coming closest with a header five minutes before full-time, but Ajax held on and returned to Rotterdam on 30 April to face PSV Eindhoven.


https://www.dutchnews.nl/news/2023/04/knvb-cup-semi-final-suspended-after-ajax-player-hit-by-object-from-crowd/ KNVB Cup semi-final interrupted after Ajax player hit object from crowd