Netherlands
Police use water cannons to end climate activist protests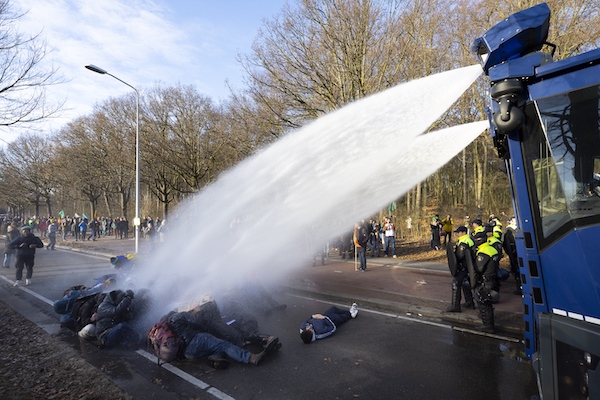 Police in The Hague ejected climate activists with water cannons from the A12 motorway late Saturday afternoon for refusing to lift the blockade.
Hundreds of protesters were arrested and taken away on police buses, although the total number of arrests has not yet been made public.
The fire brigade set up tents with dry clothes and medical examinations for those blasted with water. City officials said the move was a precautionary measure to ensure no one got hypothermia.
Wij komen op voor het leven. Geweldloos, Alleen met onze lichamen. En dit is how we behind worden. #A12 #StopFossiele subsidy #Klimaatrechtvaardigheid #Demonstratirecht pic.twitter.com/RCmXOfH0T7

— Extinction Rebellion Nederland (@NLRebellion) March 11, 2023
Nevertheless, Andy Palmen, director of Greenpeace Nederland, said the use of water cannons was "unacceptable".
"It doesn't fit the concept of a city that symbolizes peace and freedom," he said.
The A12 was completely closed when demonstrations began in the early afternoon, but partially reopened around 2pm.
The city council refused permission for the demonstration and instead referred demonstrators to Koekamp, ​​a park near the main train station.
About 3,000 people took part in the protest, according to organizer Extinction Rebellion.
farmers
Meanwhile, thousands gathered in the city's Zuiderpark to protest the government's nitrogen strategy and its failure to adequately address childcare benefits and Groningen's gas problem.
Demonstrators carry upside-down Dutch flags (which have become a symbol of the farmers' protests) and heart-shaped balloons while listening to speakers including far-right leaders Geert Wilders and Thierry Bourdet rice field.
The demonstration ended peacefully shortly after 4pm.


https://www.dutchnews.nl/news/2023/03/police-use-water-cannon-to-end-climate-activists-protest/ Police use water cannons to end climate activist protests