Netherlands
Protesters disrupt French President Emmanuel Macron's speech in The Hague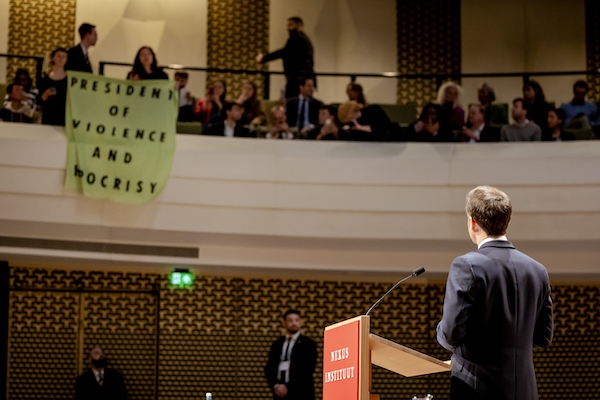 French President Emmanuel Macron was interrupted by protesters while giving a speech in The Hague late Tuesday afternoon on the first day of his two-day state visit to the Netherlands.
Demonstrators in various parts of the balcony unfurled banners describing him as the "President of Violence and Hypocrisy" and said, "I think we have lost something. Where is French democracy?" In English when talking about the future.
Macron tried to answer the protesters, but was yelled at and unable to continue his speech until the protesters left the theater. "It's very important to have a discussion," Macron resumed his speech. His speech was in English.
Macron's speech came days after he said in an interview with Politico that Europe should not be a "follower" of Washington or Beijing on Taiwan. Commentators say comments "could overshadow" a visit to the Netherlands. Our visit to the Netherlands is intended to highlight the strong ties between the two countries.
On Tuesday afternoon, President Macron renewed his vision on the importance of European sovereignty, saying it was important for Europe not to be dependent on countries outside the EU.
He outlined how important it is for the EU to be able to choose its own partners and "shape its own destiny", rather than being "just a witness". [to] A dramatic evolution of this world."
"This means that we must strive to be the rule makers, not the rule takers," he said.
https://www.dutchnews.nl/news/2023/04/protestors-interrupt-french-president-macrons-speech-in-the-hague/ Protesters disrupt French President Emmanuel Macron's speech in The Hague