Netherlands
Support for Ukraine at NL with marches, speeches and barrel organ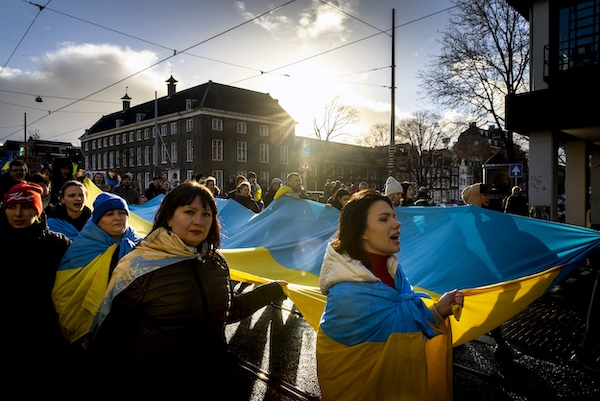 One year after Russia's invasion of Ukraine, marches, prayers and demonstrations have taken place across the Netherlands to show support for the Ukrainian people.
Around 1,000 people gathered for a demonstration at a dam in the city center in Amsterdam, with similar events taking place in The Hague, Utrecht and Groningen.
From Amsterdam to Ukraine with love! pic.twitter.com/rxDRKIcFBz

— Esselien van Eerten (@EertenEsselien) February 24, 2023
Hundreds took part in a silent procession as Ukrainian flags were hoisted over civic buildings and Hofweibelstrasse in The Hague.
One year war in Ukraine 😢. We are rooting for our friends 🇺🇦! The entire city of The Hague is covered with the Ukrainian flag. So is the Dutch parliament.A striking tribute to all who have fallen in this cruel war #WeStandWithUkraine #UkraineRussianWar #SlavaUkraini #The Hague pic.twitter.com/bK4XLSxvRJ

— David Van Keulen | #ExploreTheCity (@davidvankeulen) February 24, 2023
Also in The Hague, artist Teun Kastelrain installed a barrel organ outside the Russian Embassy and played the Ukrainian national anthem for several hours.
opdracht van Kunstenaar Teun Castelein staat er vandaag een draaiorgel voor de Russische ambassade in Den Haag. Het orgel speelt van 08.00 deze ochtend tot 20.00 vanavond het Oekraïense volkslied. pic.twitter.com/XcBwWzoN4Z

— Stylistoloog van de Sterren (@momofsaul) February 24, 2023
In Rotterdam, Ukrainian flags lined Maas Boulevard and an evening procession from City Hall.
De #Mars Boulevard of #Rotterdam #flaggen #Ukraine #blauwgeel #010 days https://t.co/I1SFtu7jbi

— Rotterdam By Day (@010byday) February 24, 2023
In Utrecht, hundreds of people marched silently from the main train station to the Jaarbeurs fairgrounds.
A year of war, tears, resilience and solidarity. "Pray for Ukraine" religious gathering in Utrecht Domkerk, Silent Walk of Hope, "Remember Together" event at Jarlbrus Reception Centre. pic.twitter.com/P4elTq8cV2

— Lucian Fatu (@LucianFatu_Amb) February 24, 2023
Ministers delivered speeches pledging continued support for Ukraine. Chancellor Mark Rutte promised the Netherlands "will continue to support Ukraine as much as we can". Foreign Minister Wopke Hekstra said the war was meaningless.
#StandWithUkraine pic.twitter.com/B9KzBwIIY7

— Mark Rutte (@MinPres) February 24, 2023
A year ago Russia started a senseless war.

My message to our brave Ukrainian friends is simple.

I will support you in this dispute.
do whatever it takes.
As long as it takes.

Slava Ukraine! 🇺🇦
СлаваУкраїні! 🇺🇦#StandWithUkraine pic.twitter.com/hdiOyJKR0A

— Wopke Hoekstra (@WBHoekstra) February 24, 2023
About 65,000 Ukrainian citizens are currently living as refugees in the Netherlands.


https://www.dutchnews.nl/news/2023/02/marches-speeches-and-a-barrel-organ-show-support-for-ukraine-in-nl/ Support for Ukraine at NL with marches, speeches and barrel organ